BLOG. At this section you can get an insight view of my studio. I will post exhibition setups or new works in progress and try to update some news on a regular basis...it's worth to come back again...best regards Michael.
---
---
mw>01.02.2020 / // Michael Wegerer on air - The Wise Fool Podcast
Last December Matthew Dols visited me in my studio to talk to me about art, the art market, artist residencies and the ideas of art production. Matthew developed the podcast "The Wise Fool Pod" to gain very personal insights into a section of the art world.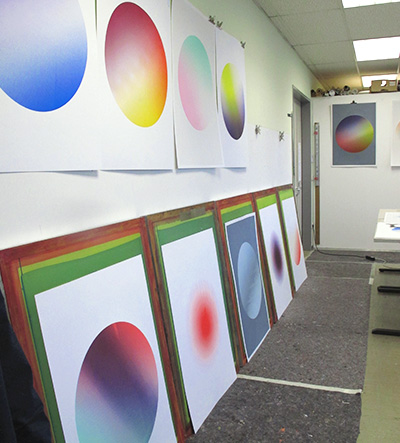 Foto (c) Jana Madzigon
listen to the interview anytime here (duration: 1:10:06)
>http://wisefoolpod.com/printmaker-sculptor-michael-wegerer-vienna-austria/
---
mw>15.11.2019 After 18 months the research project Quint Print Glass is completed. A selection from the production of the glass objects were exhibited at the Angewandte Innovation Lab Galleries - AIL as part of the book presentation.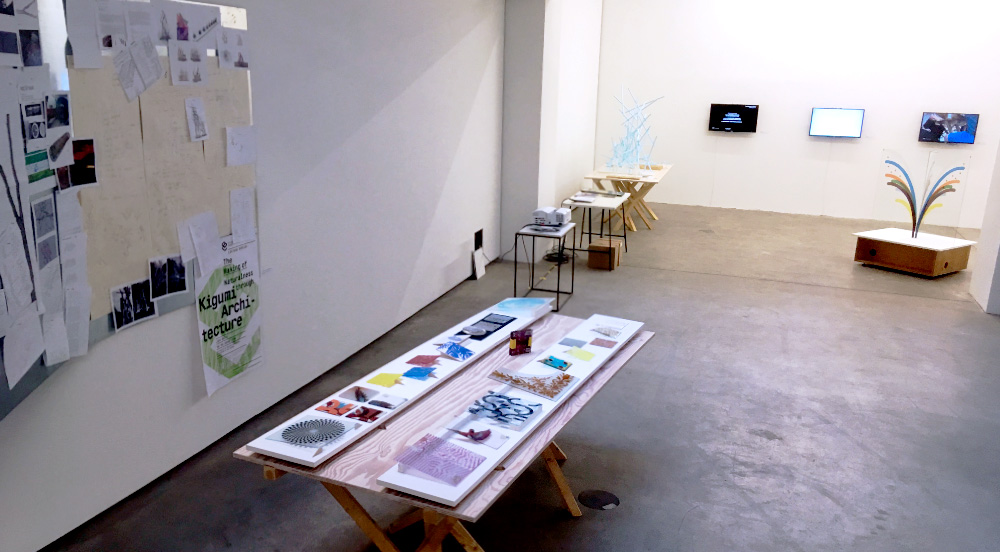 // BOOK LAUNCH
Michael Wegerer - Quint Print:Glas and presentation of new glass works
Angewandte Innovation Lab (AIL)
17.10.2019, 18:30 - 21:30 / Artist Talk: 19:00
Michael Wegerer in conversation with Prof. Christine Schwaiger (New Design University)
Location:
Angewandte Innovation Lab (AIL)
Universität für Angewandte Kunst
Franz Josef Kai 3, 1010 Wien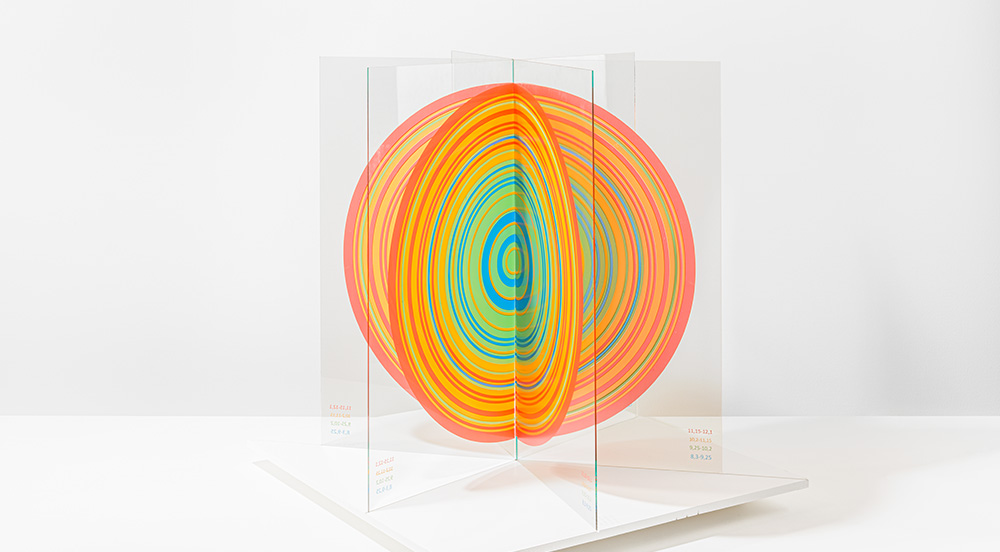 "Glocal Warming", glass object, ceramic inks, screen print, fired glass, 100x100x100cm, 2019, Foto (c) Martin Croce
The research project "Quint Print Glass" was initiated by Michael Wegerer and was funded by the Vienna Business Agency as within the creative project and awarded a prize in 2018. This project aims to develop new recipes for alternative printing methods for the production of coloured designed glass. In addition to screen printing technology itself, new (ecological and water-based) printing pastes, ceramic pigments and possible combinations with digital technologies were tested and findings for the respective design options were derived. As a result of this research project, a publication is now available that provides an insight into the various qualities and possible applications of printed glass. >www.quintscreenprint.com
The whole project was supported by – Creative Project der Wirtschaftsagentur Wien
>Wirtschaftsagentur Wien
---
mw>09.08.2019 / Salzburg International Art Fair, SIAF 10.-18.8.2019

I'm glad to get the chance to present new work at the brand new Art Fair in Salzburg with Galerie Michaela Seif P.contemporary
(works from left to right: Barbara Höller, Michael Wegerer, János Szurcsik, Renata Darabant)
Opening and Preview: 9.8.2019, 16-22h
Address: Salzburg Airport, amadeus terminal 2
>https://www.siaf.info/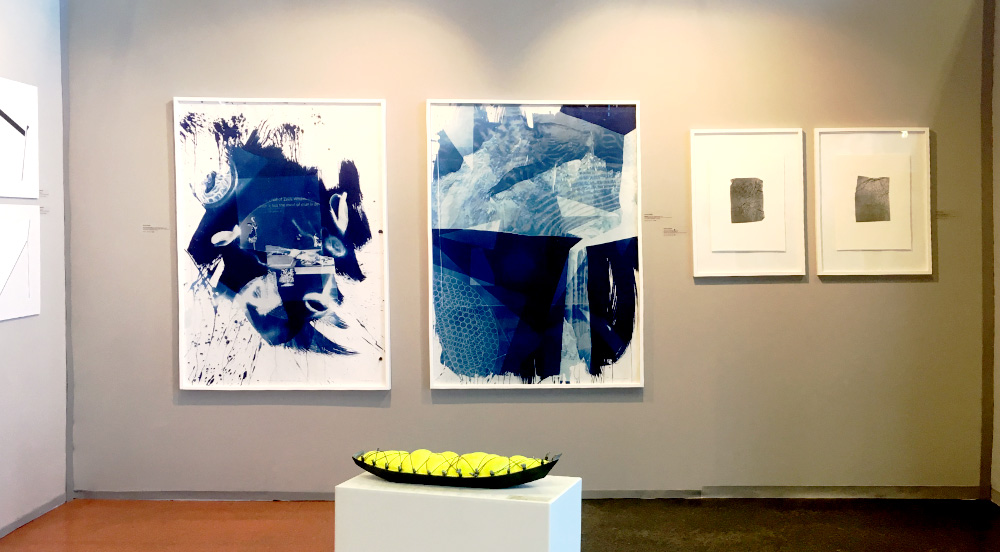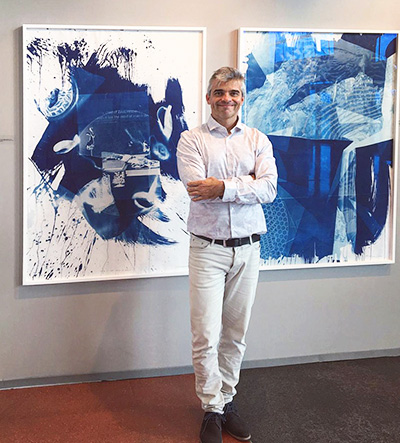 ---
mw>07.07.2019 / Images from the latest shows: Codes - screen print, painting on paper, unique print, 150x100cm, 2019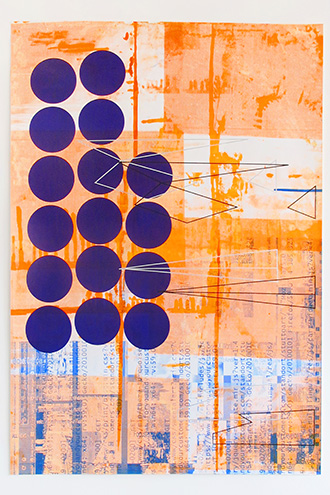 geometric abstraction based on data visualisation, images and statistics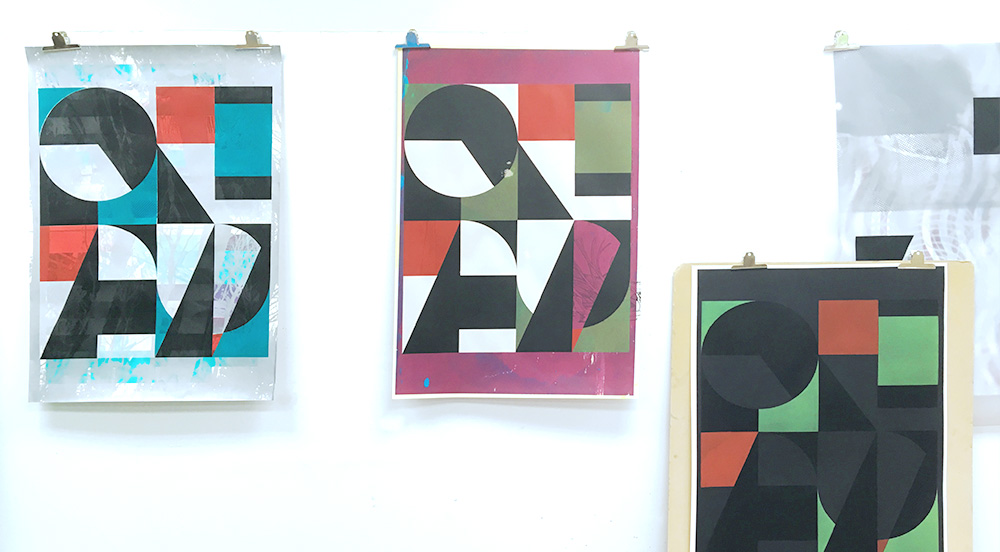 ---
mw>21.03.2019 // exhibition impressions // Glasses with a Mirror Effect (duo show)
Małgorzata Wielek-Mandrela and Michael Wegerer, Galeria Strefart, Tychy, POLAND
> http://www.strefart.pl/pl/wydarzenia/?id=493/Wernisaz_wystawy_Niebieskie_okulary_z_efektem_lustra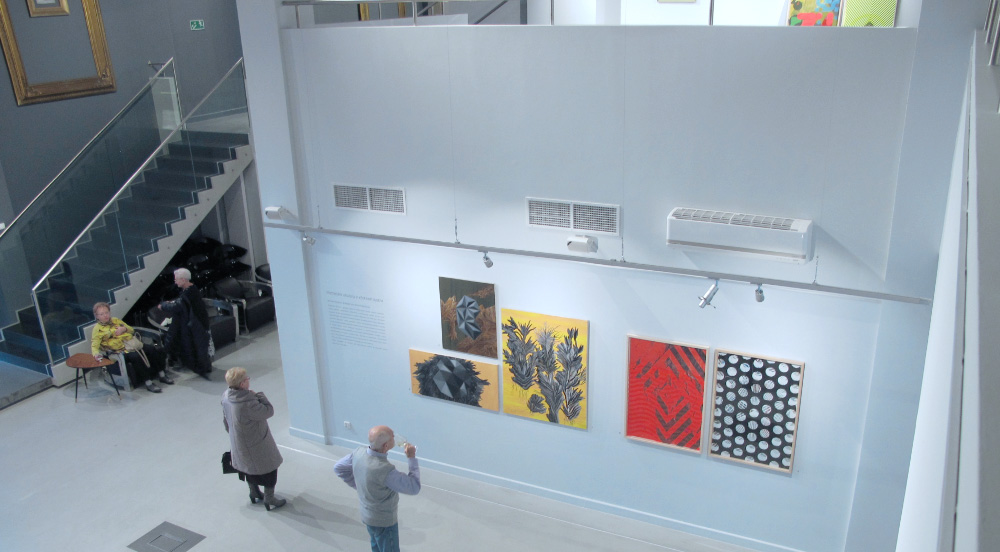 left: Małgorzata Wielek-Mandrela (paintings), right: Michael Wegerer (screen prints)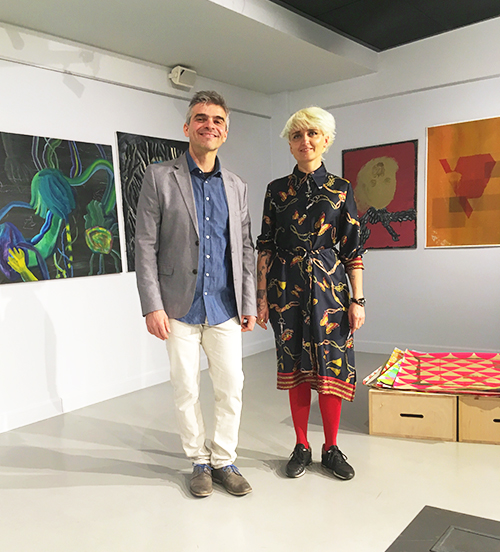 left: Małgorzata Błaszczyk (gallerist), Paweł Mendrek (curator)
right: Michael Wegerer and Małgorzata Wielek-Mandrelaand opening impressions 1st floor
---
mw>12.03.2019 //glad to share some studio views to document the work in progress for upcoming shows
This spring at Art Vienna Fair, Art Austria 2019 and Sterfart Gallery in Tychy Poland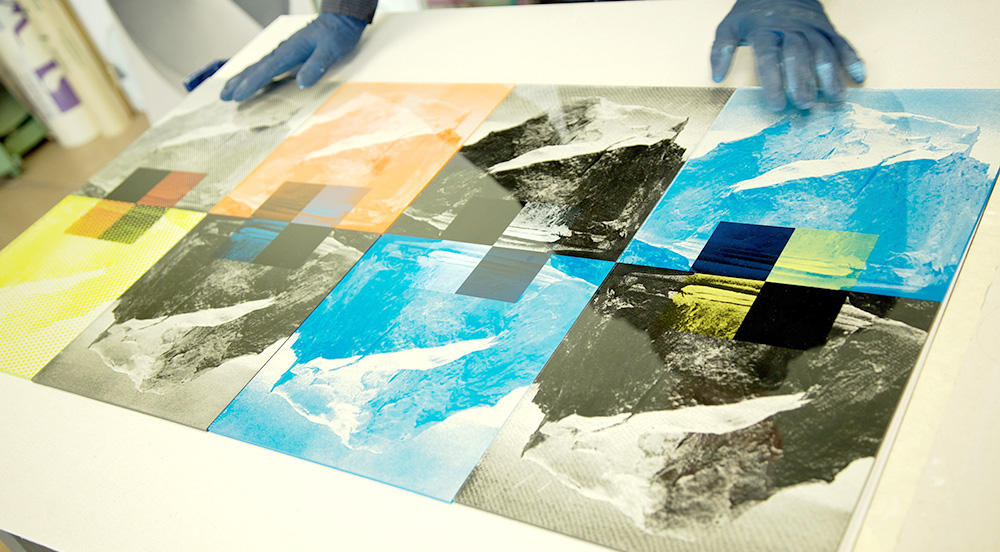 top: screen prints on paper, all unique, varoius sizes 100x70 - 100x150cm (photographer (c) Renata Darabant)
bottom: soon on dsiplay at Vienna Art Fair, limited glass editions, screen print ceramic ink, fired on glass, 25x50cm, 2019
(photographer (c) Tina King)
---
mw>20.10.2018 // Artist in Residency New Zealand / (21/09/18 – 07/10/18)
link: http://www.art-in-newzealand.co.nz/michael-wegerer/
In January of this year, the Wahrepuke Gallery Prize in Kerikeri was followed by an invitation to a solo exhibition and artist in residency, which I had gratefully accepted.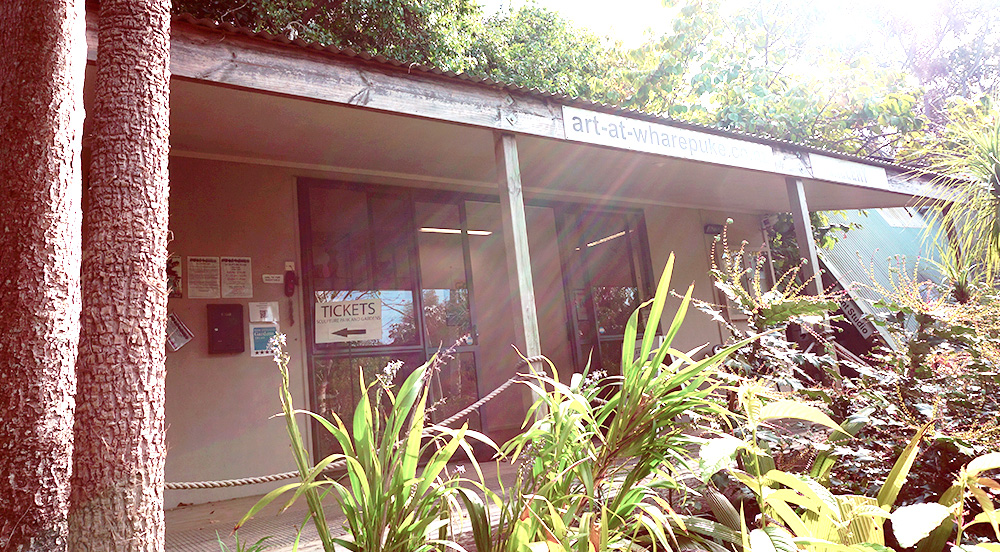 In the context of the solo exhibition, a series of the screen prints "Northern Light" from scanned skylight and new expressive cyanotypes on tissue paper were shown. For the first time, the series was accompanied by screen prints of geometric shapes and repeat patterns. The four-week residency at Wahrepuke Studio was dedicated to the study of various visual languages in the Pacific and the Maori. At Wahrepuke Studio, I did a number of sketches in preparation for a new series of prints on glass and architecture.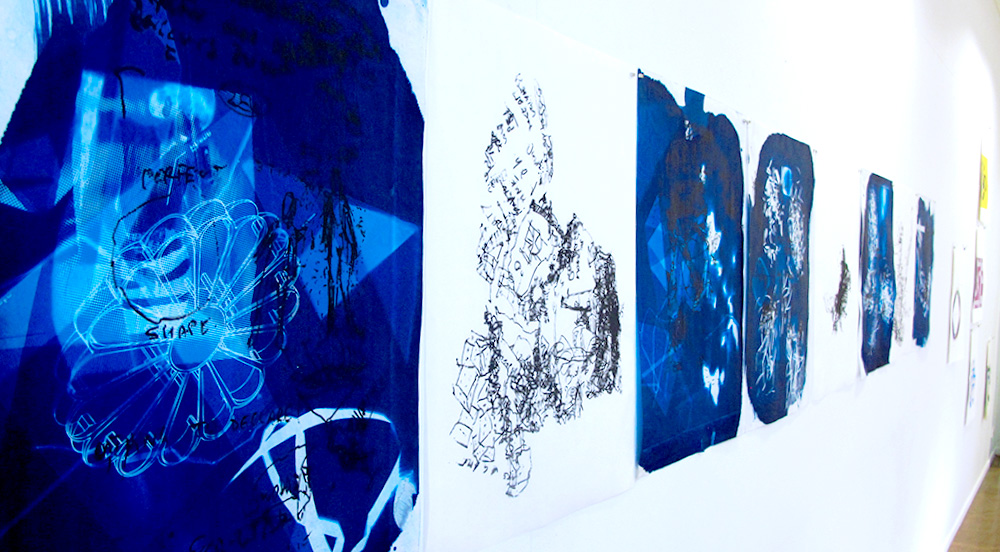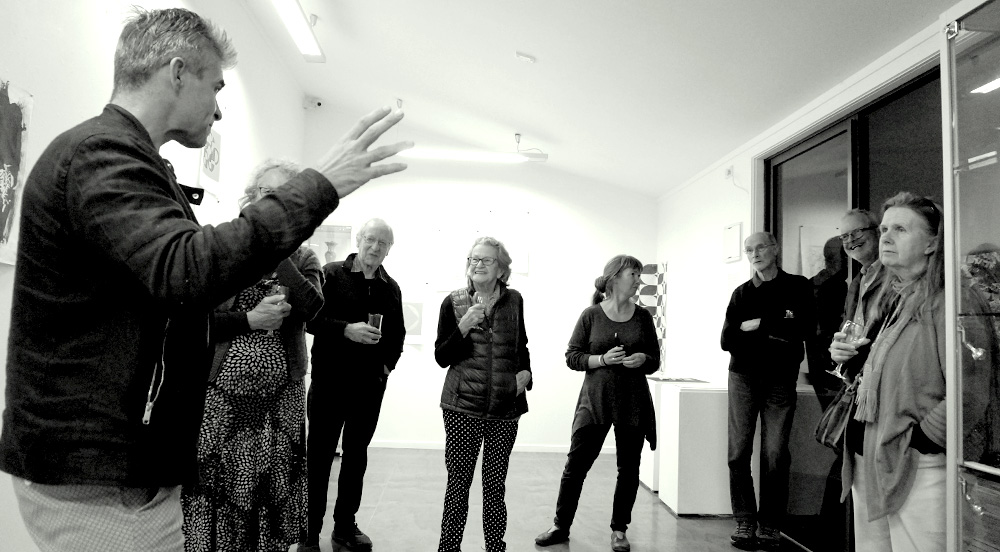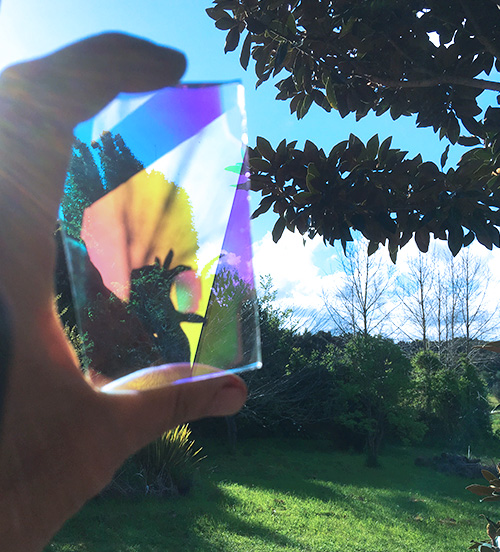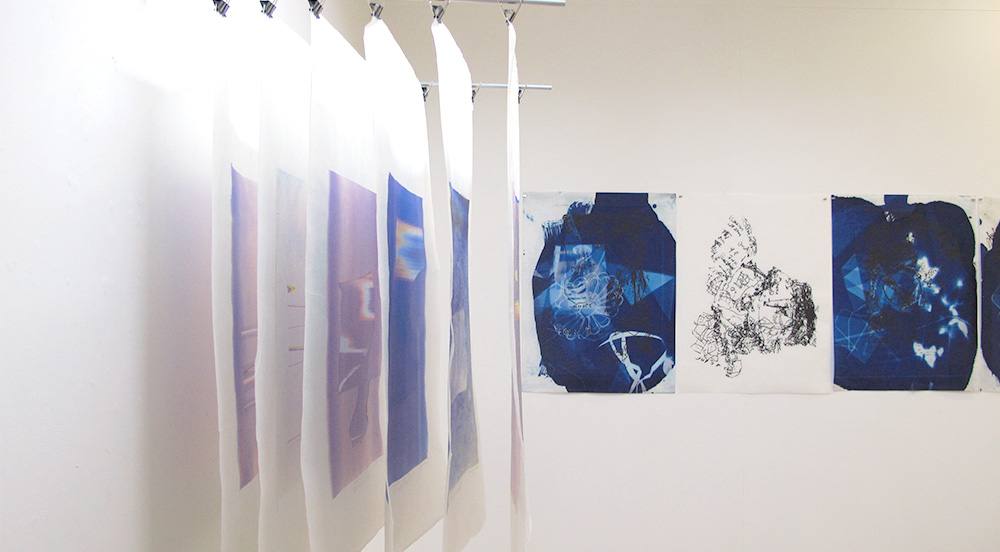 I would like to thank Mark Graver, graphic artist and curator, and Tanja Booth, manager of SubTropical Garden in Wharepuke, for organizing the exhibition and the excursions.

This project is supported by the Land Niederösterreich Kultur and Art at Wharepuke Gallery, New Zealand.
---
mw> 12.9.2018 // Loft8 Gallery, Michael Wegerer "418: I'm a Teapot", solo show
link: https://www.loft8.at/blick-in-die-ausstellung-michael-wegerer-418-im-a-teapot/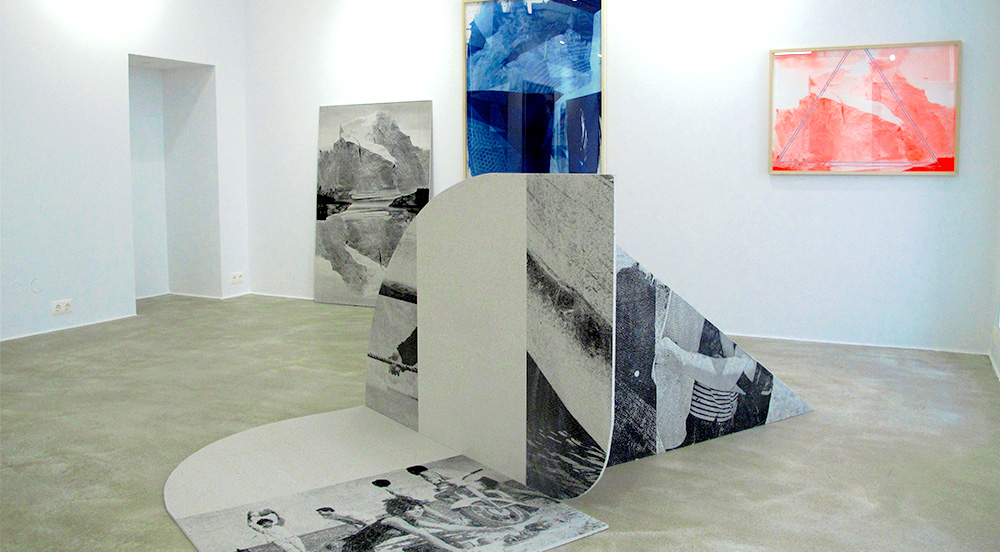 ltr: Ernst Woller, Angela Stief, Michael Wegerer, Katharina Moser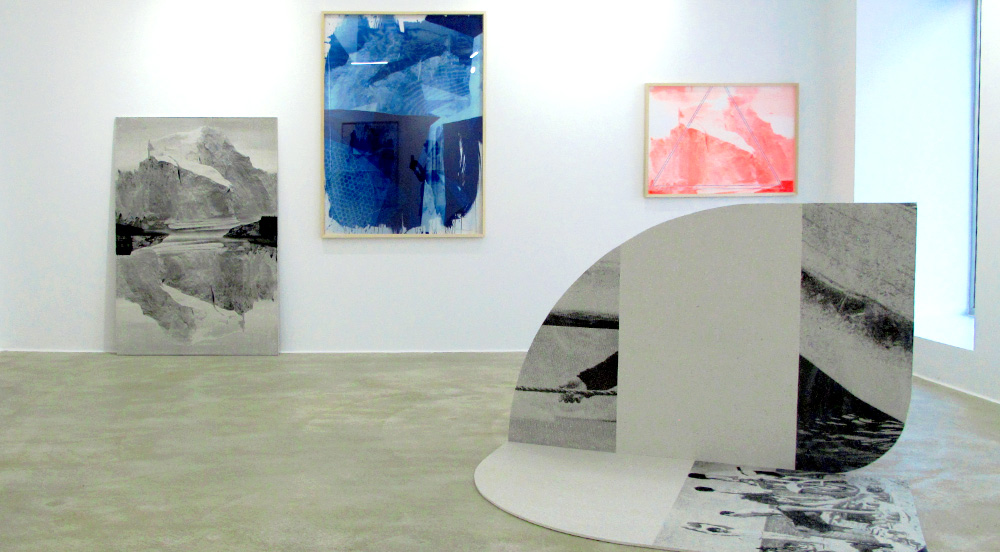 "418: I'm a Teapot", screen print, cyanotype, glass work, plaster board, spacial installation (13.9. - 12.10.2018)
at Loft8 Gallery, Vienna
---
mw> 16.05.2018 // CODES (group show)
artists: Tone Fink, Katharina Fink, Michael Kos, Herbert Starek, Michael Wegerer
duration: 16.5.2018 - 01.05.2019
exhibibition view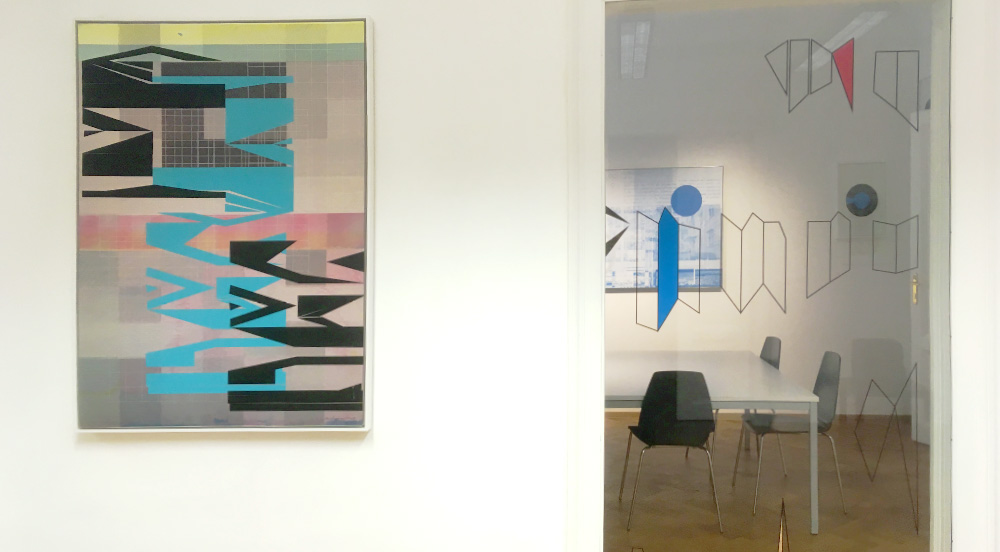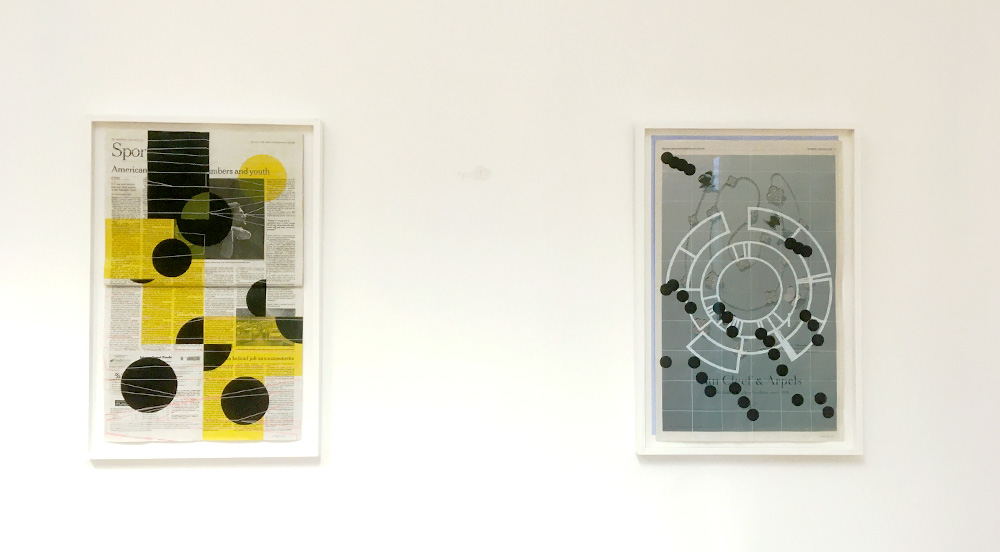 CODES, the whole new series of prints, objects and a site specific installation on glass are presented at foryouandyourcustomers in Vienna...
---
mw> 08.05.2018 // Studio View
making the new body of work for the upcoming show CODES in Vienna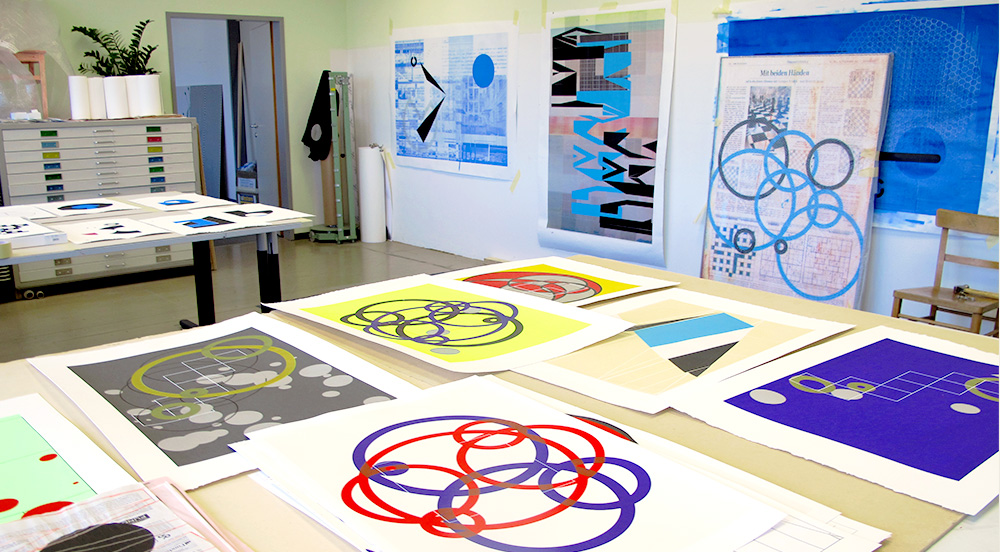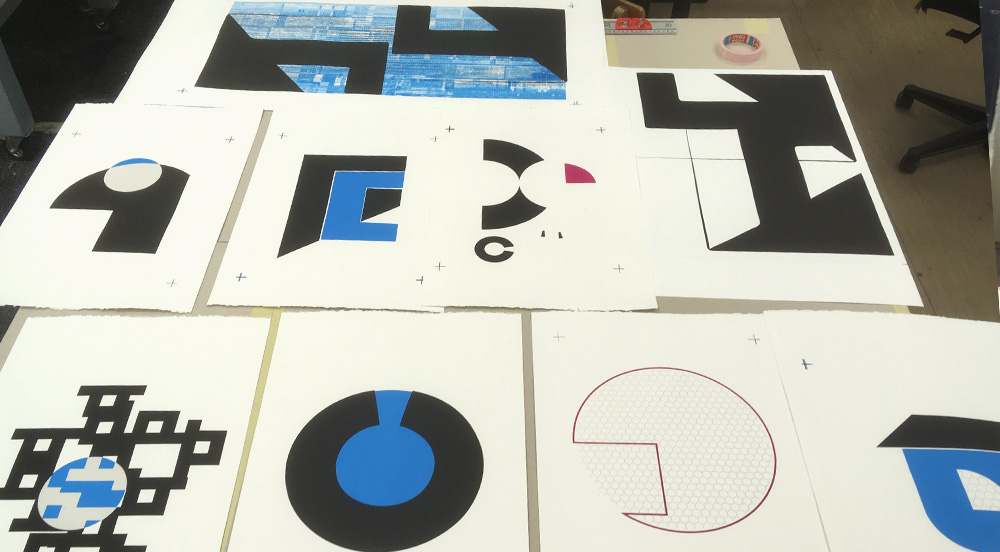 all prints are based on Data and Codes. Geometric Art/ Data Visualisation..
---
mw> 15.04.2018 // SUPERMARKET - INDEPENDENT ART FAIR - STOCKHOLM
(12.4.2018 - 15.04.2019)
Views and some impressions at the fair..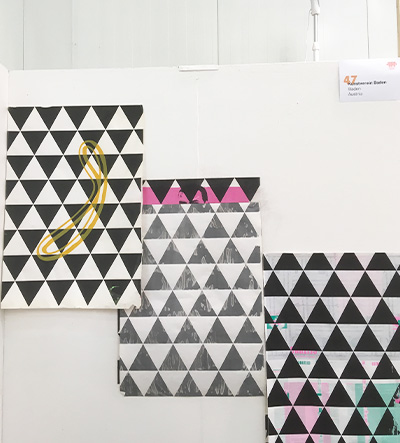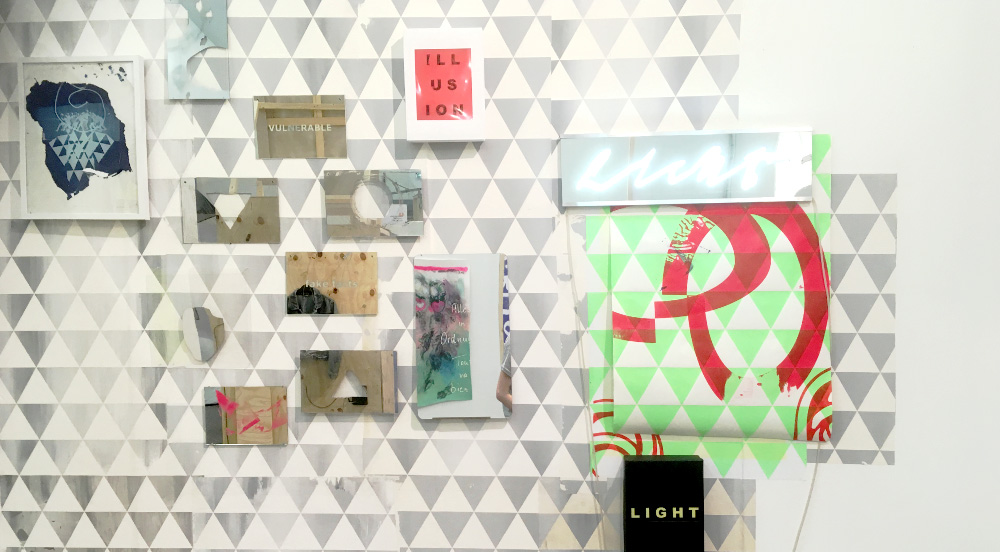 view: screen prints, wall paper, glass and mirror, 2018 (DUO show with Cornelia König, Kunstverein Baden)
---
mw> 15.04.2018 // SUPERMARKET - INDEPENDENT ART FAIR - STOCKHOLM
process and making > "LEGACY" 55 screen prints on "makulatur-paper"
installation shot in the studio, ready to be packed up for the Supermarket Art Fair in Stockholm, 2018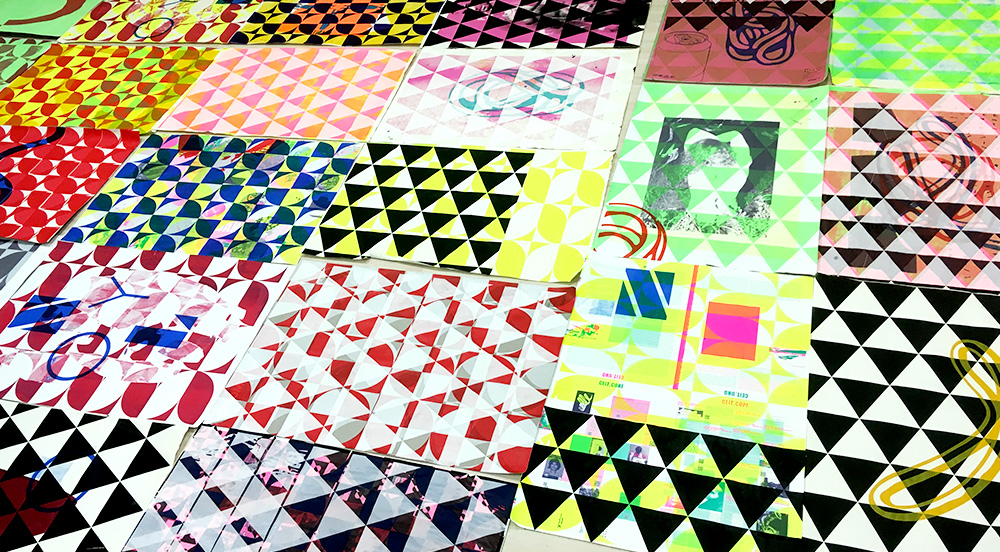 ---
mw> 12.02.2018 // AWARD WINNER:
>> We are delighted to announce the winner of the 5th International Open Print Show: Michael Wegerer & JUUN from Austria for the work Piano Sublimation.
Michael will be having a solo show at Wharepuke later in 2018. <<

>FB Art at Wharepuke on Samstag, 20. Januar 2018
Many thanks to the team at Art at Wharepuke!
> www.art-in-newzealand.co.nz/5th-international-open-print-show/
view: screen print on wall paper, Wharepuke Gallery, New Zealand, 2018
---
mw> 10.02.2018 / MESH - group show, exhibition view, gallery Rostrum(10.02. - 04.03.2018)
Exhibition view gallery Rostrum in Malmö. It has been a wonderful opeing night and a great experience. many thanks to the organizers of this exciting exhibition. I d like to thank Celilia Sering and Cornelia König.....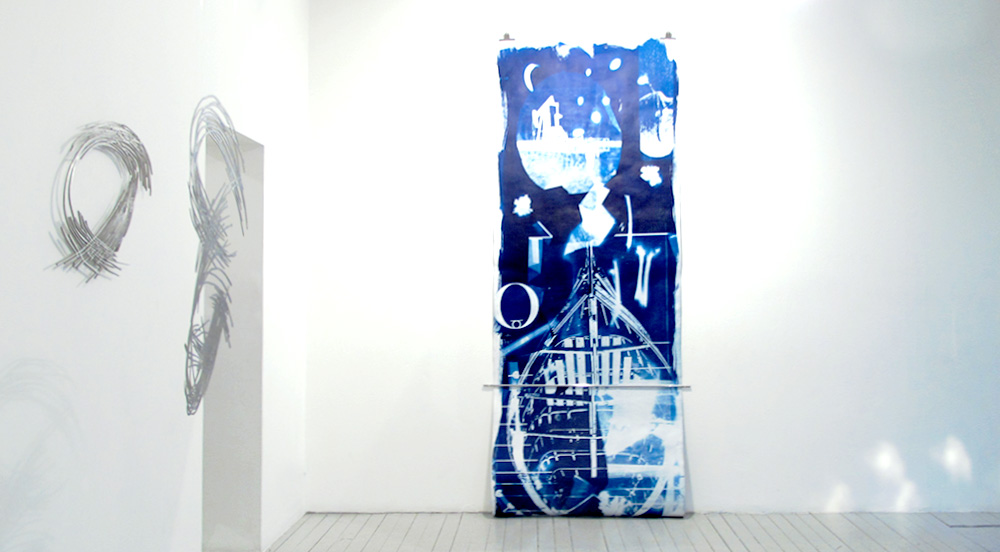 left: Barbara Szüts, center: Michael Wegerer, ALONG THE WAY TO UTOPIA, cyanotype, 2018
---
mw> 05.02.2018
Working for the exhibition MESH in Malmö. Exposing processes are going on for large scale cyanotypes and screen printed elements on it. Looking forward how these new experiments will turn out. I will keep on posting here exhibition views - soon after the opening mid February.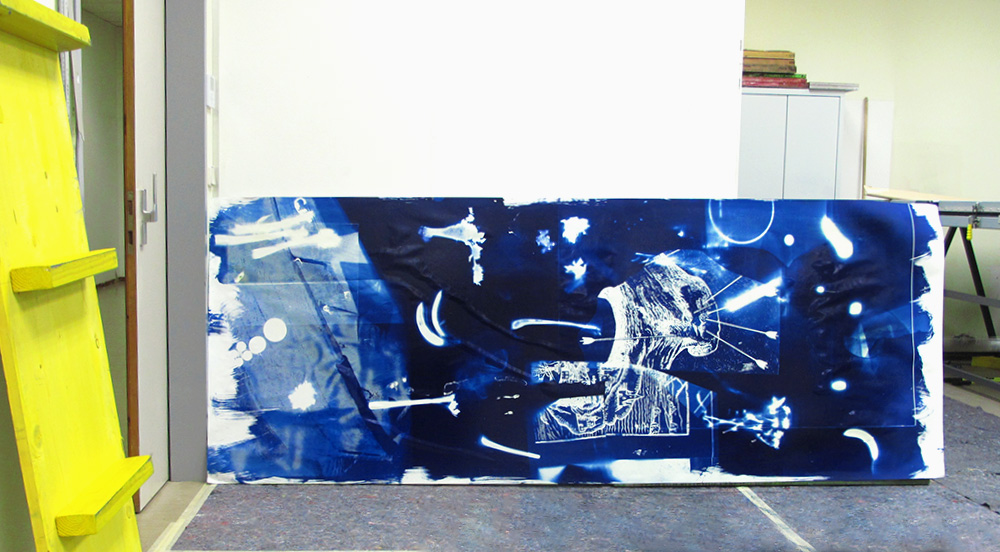 drying a large scale cyanotype, studio view, Jan 2018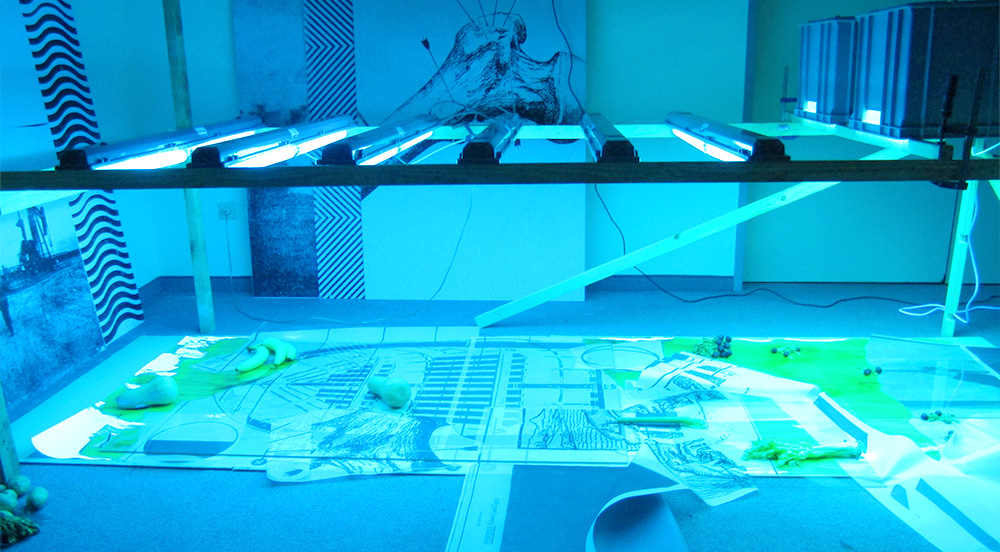 ALONG THE WAY TO UTOPIA, cyanotype production for the group show MESH, exposure unit, studio view
---
mw> 03.01.2018
Happy New Year and very best wishes from the studio.
FRESH FRAMED CYANOTYPES .. MORE IS COMING UP THIS YEAR....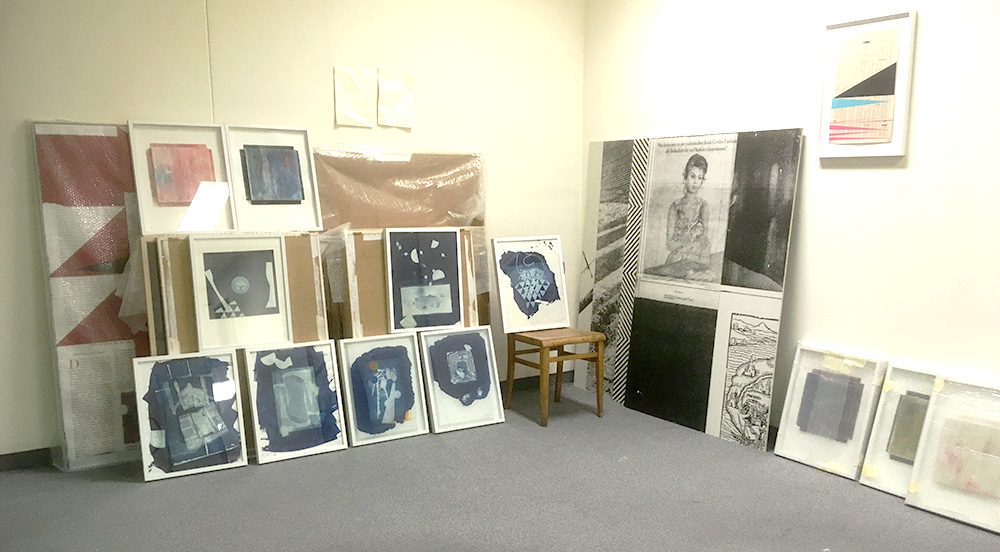 Archive with cyanotypes and screen prints, Dec 2017
---
mw> 15.10.2017
STUDIO VIEW:
Working on the architectural desing for "Johannes Kepler University" MED Campus Linz.
(Kunst am Bau, geladener Wettbewerb, 2017)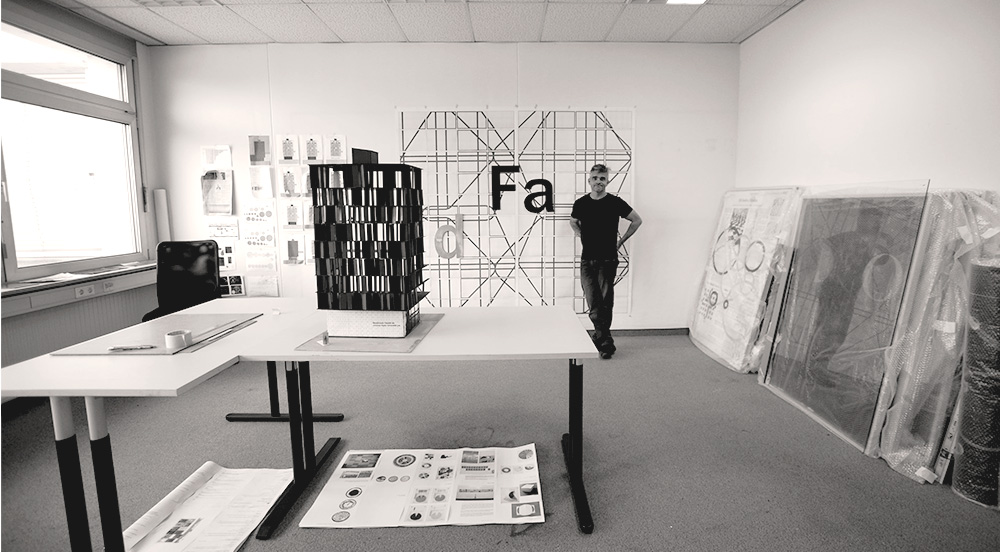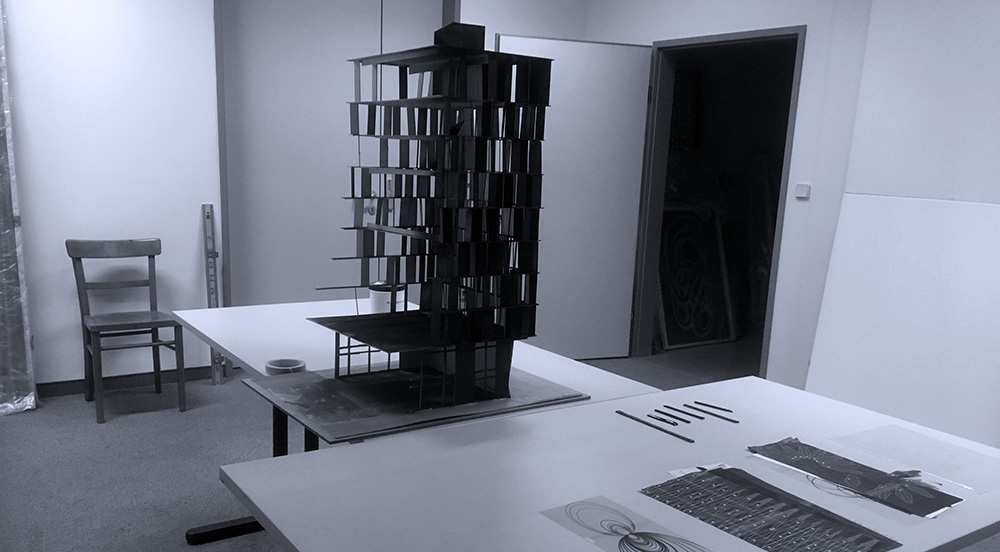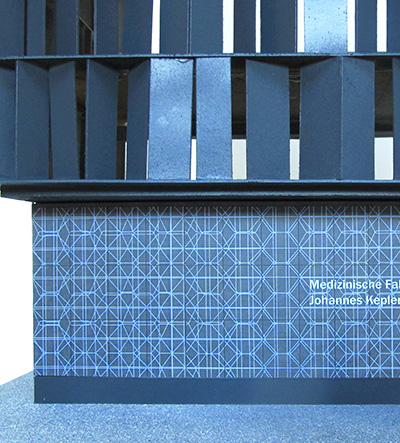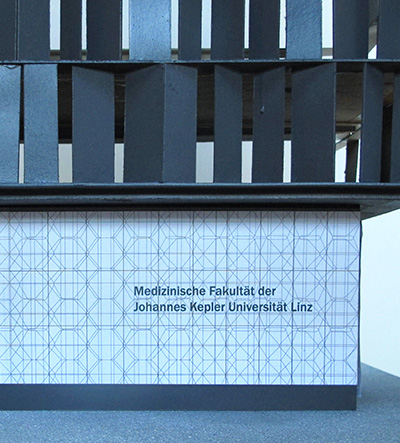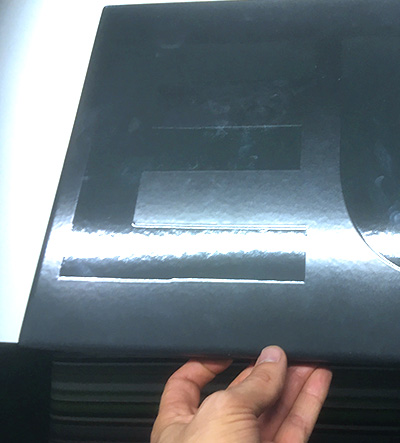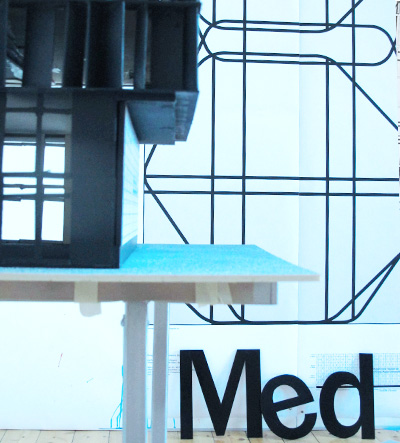 Art in architecture, invited competition, material samples, pattern facade, model, Oct 2017
---
mw> 28.9.2017
MY NEW STUDIO will open soon.
all welcome .. at Mellergasse4, 1230 Vienna
we are looking forward to the opening on the 20.10.2017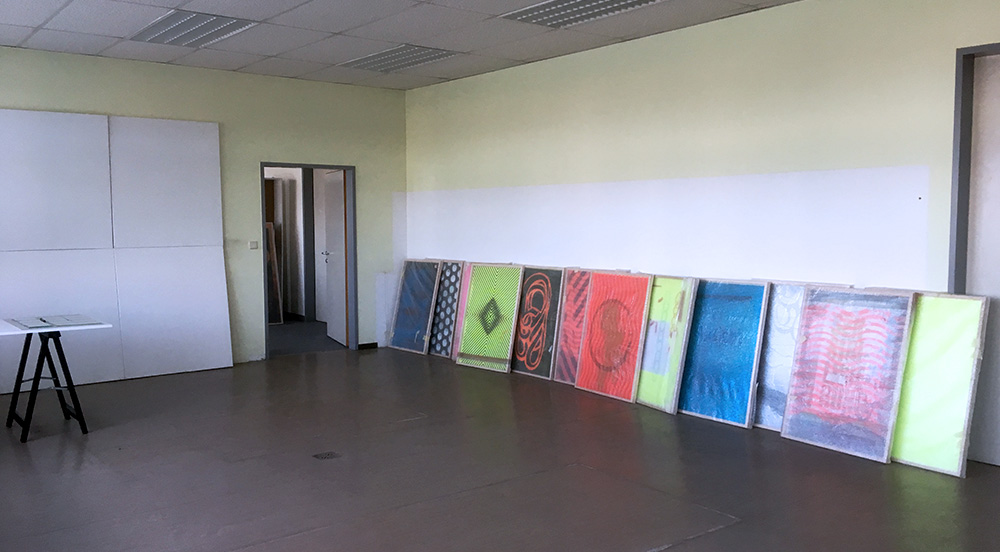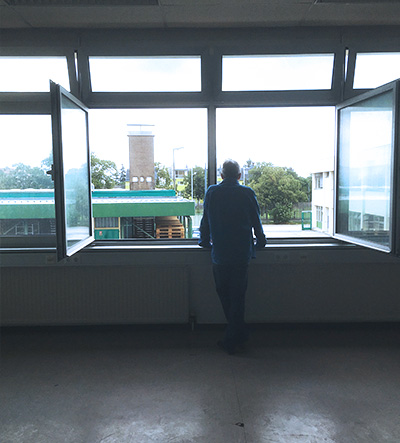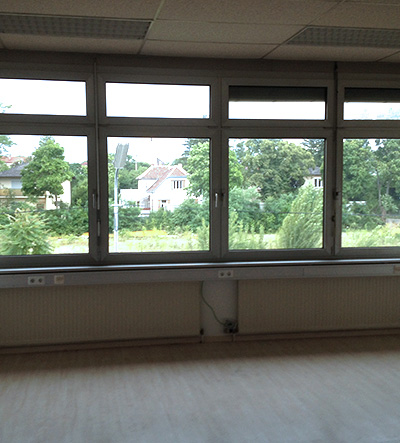 We are moving to Vienna's outer industrial area, after 7 years in the old studio, which was close the Vienna's city center.
Liesing > offers us more space and lovely surroundings.. it is easy to reach by car and public transport.
I am happy to set up this new space for screen printing, including a drawing studio and a lovely exhibition space.
---
mw> 20.7.2017
exhibition views at the opening evening at Periscope gallery Salzburg
showing one of my recent cyanotypes.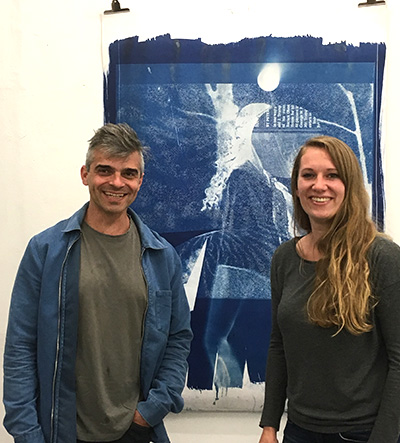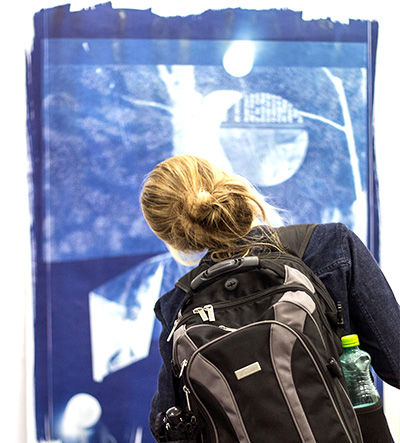 with thanks to the International Summer Academy Salzburg, Simone Rudolph and the Periscope Team...
---
mw>6.6.2017
working on a series of large scale Cyanotypes "UTOIPA".
based on the material and images of the exhibition "the better life" (see the documentation below)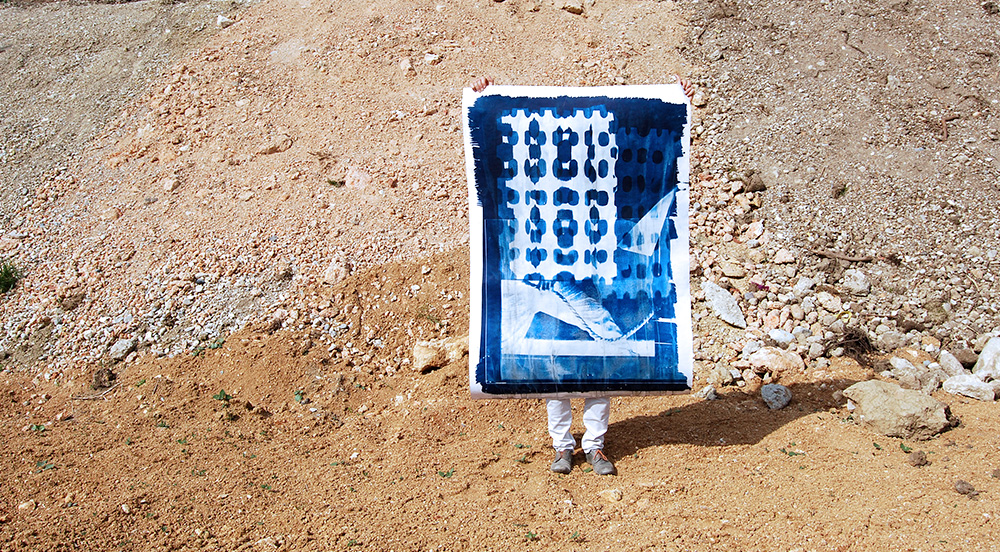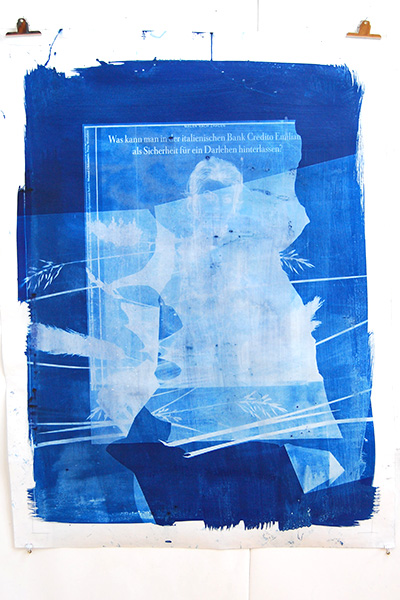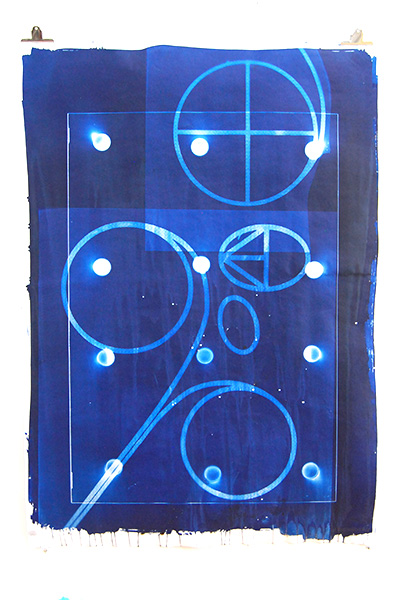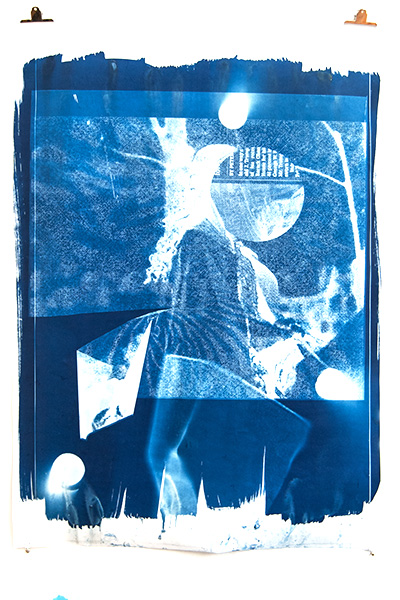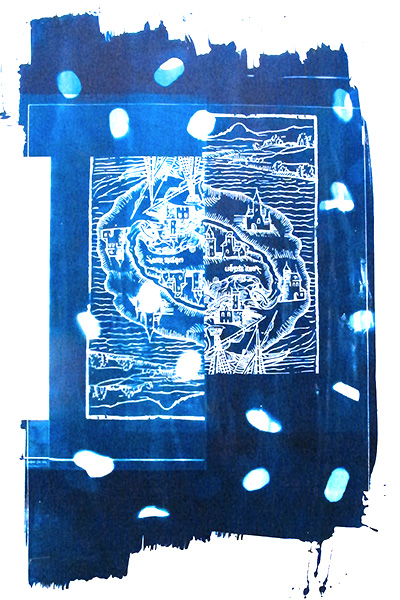 from the Series "OCEAN - the better life", Cyanotypie, 2017
Cyanotypie production: with thanks to Druckwerk Vienna and Renata Darabant for their technical support.
---
mw>26.2.2017
Solo show / Michael Wegerer - LICHT (26. 2 - 19. 3. 2017)
Blaugelbe Galerie Zwettl
This exhibition presents a new body of work, which deal with the theme of light as material and phenomena > including cyanotypes, screen prints, objects and a video-Installation constructed out of various materials.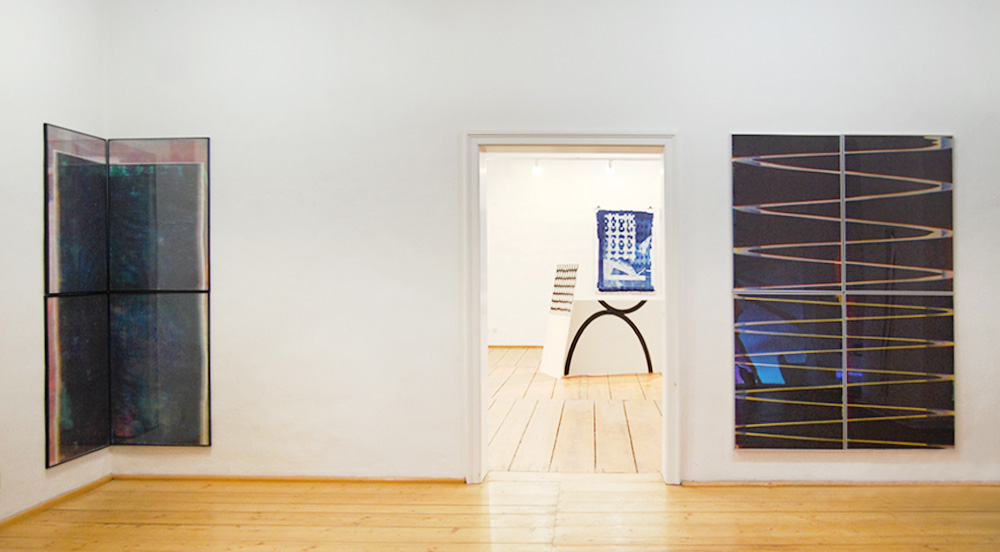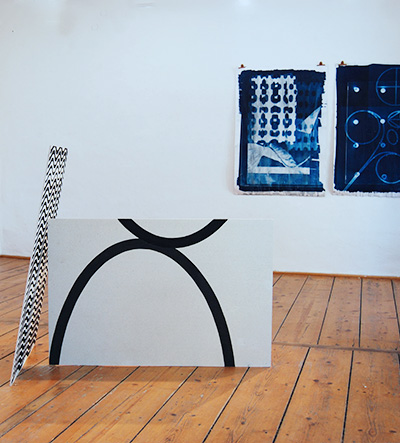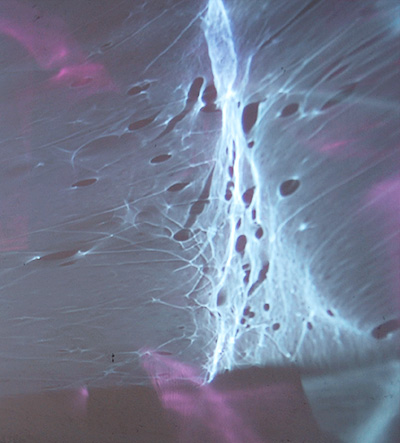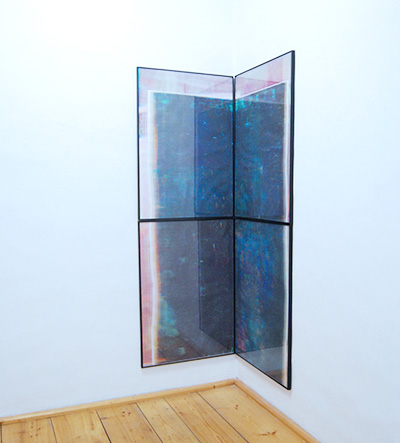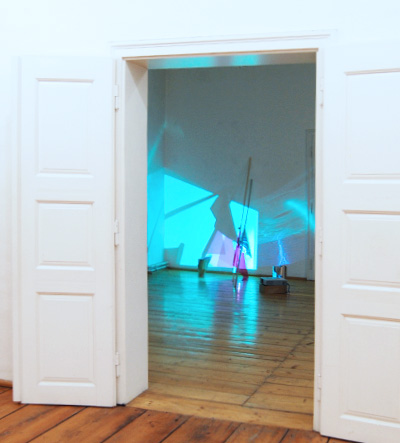 The artist talk and the opening took place on 25.2.2017,
the exhibition was organised by Martin Anibas,
Talk: Leo Hemetsberger with Michael Wegerer, Photographs by Renata Darabant
Many thanks for all the helping hands!
>http://www.blaugelbezwettl.com
>flyer
---
mw>24.2.2017
Setting up and exhibition views:
"Ocean - the better life", screen print on plaster board, various dimensions, installation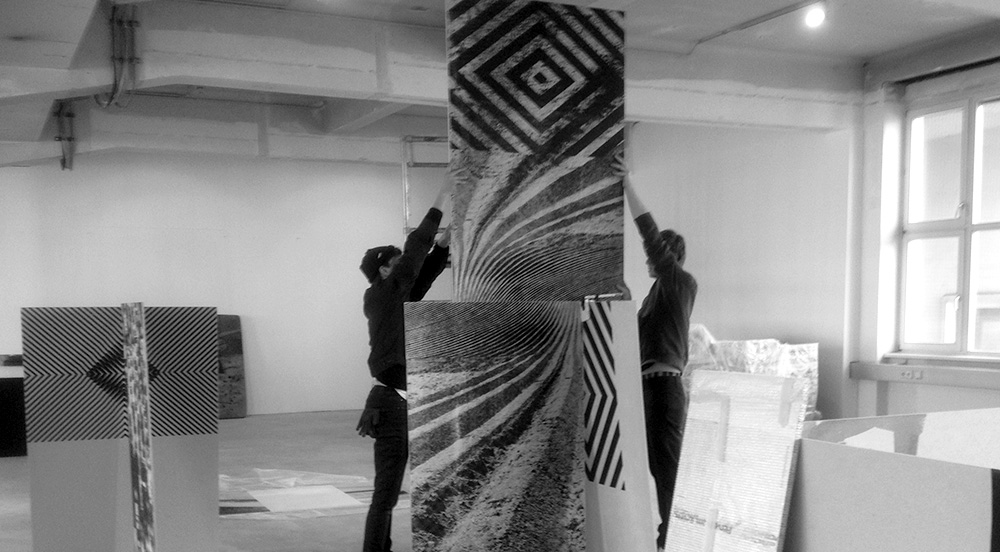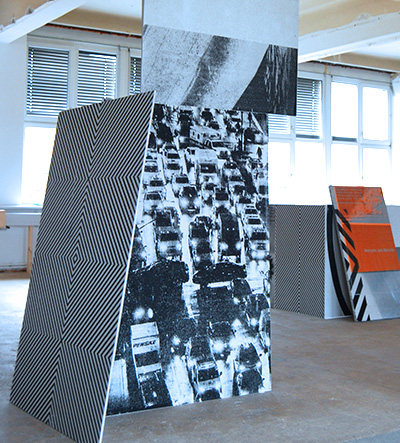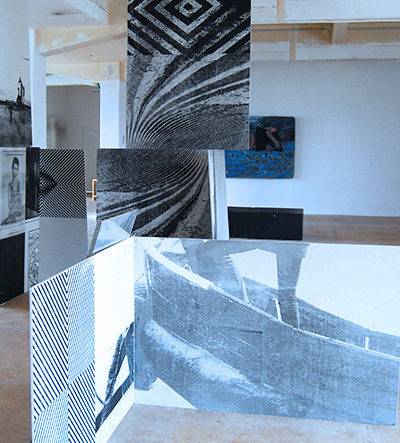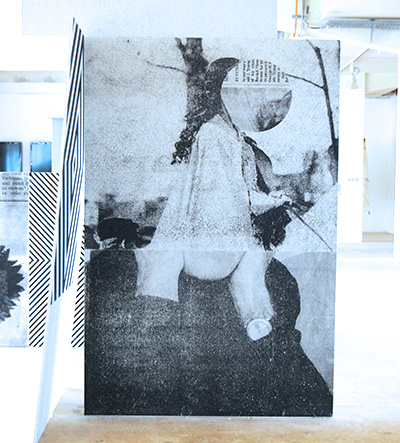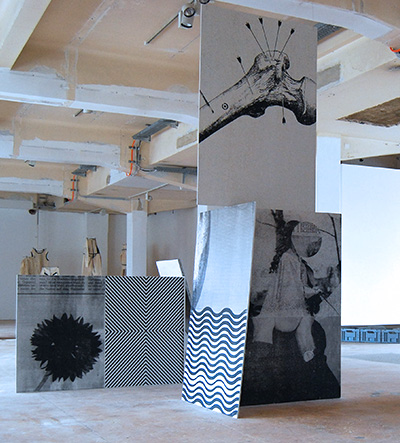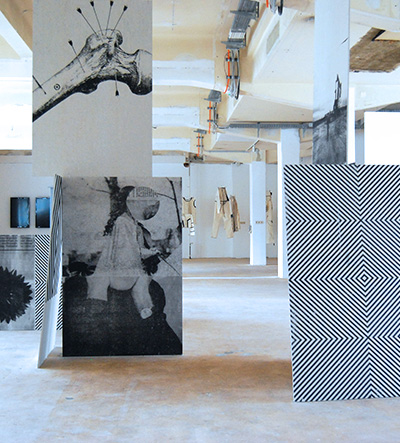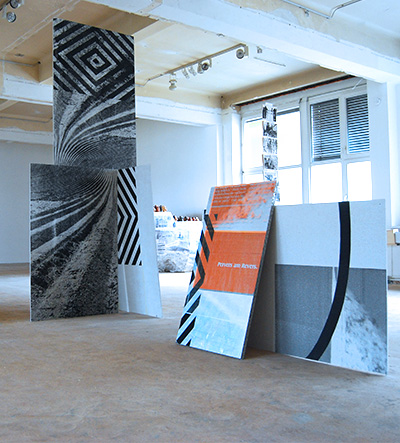 "Das bessere Leben", Künstlerhaus Vienna, 2017
see more information of the group show following the link>
>http://www.k-haus.at/
---
>mw 30.1.2017

// In Conversation / Artist talk
our next event is coming soon..>the "conversation evening" at Bildraum01.>>>15.02.2017, 19h
Artist talk: Jo Stockham, Professor Royal College of Art London and Barbara Höller, Artist Vienna in conversation with Michael Wegerer. Presenter: Boris Manner, University of Applied Arts Vienna. Music by JUUN on amplified clavicord
>http://www.bildrecht.at/
>flyer
---
>mw 19.01.2017 // fresh impressions and insights:

opening and exhibition views of yesterday's event.
what a great evening, fantastic audience and speakers.
thanks for coming...!
>pressinfo (d)
>pressinfo (e)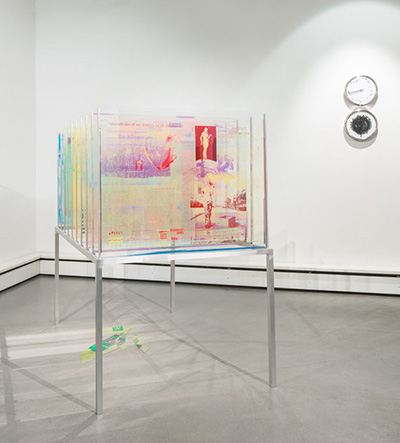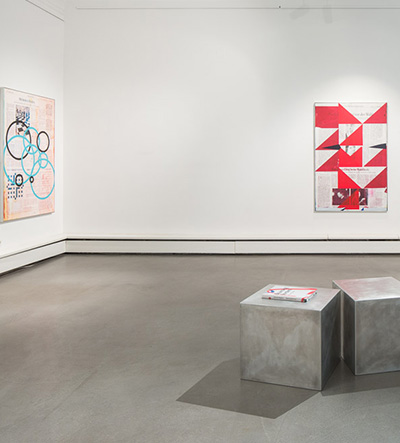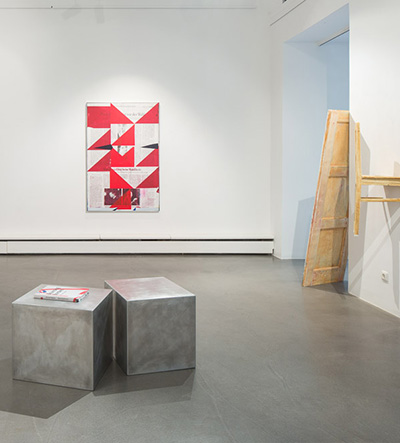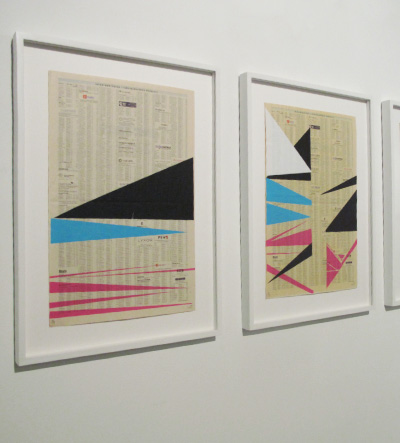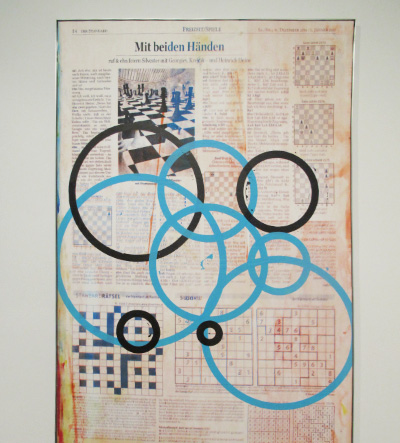 fotos (c) Bildrecht, Eva Kelety and Michael Wegerer
---
>mw 12.01.2017 // in progress - studio view:
making new works for the upcoming solo show and book presentation:
Michael Wegerer - Bouncing Borders, Bildraum01, Vienna

" We have never been modern"
is an on going series since 2012, selected pages of daily newsprints, reproduced and screen printed onto glass panels, displayed on a metal shelf.
---
> mw 27.11.2016 // the book presentation dates are out now:

Bildraum01, Strauchgasse 2, Vienna1
Opening: 18. January 2017, 6pm - 9pm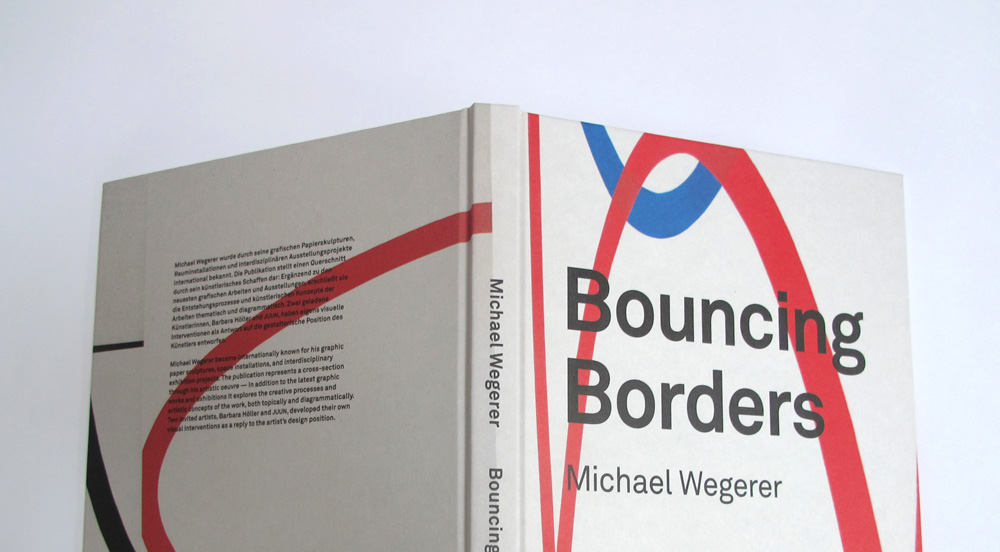 Publication "MICHAEL WEGERER - Bouncing Borders"
Edition Angewandte, Published by De Gruyter | ISBN: 1866-248X
> Order: www.degruyter.com
The publication represents a cross-section through Michael Wegerer's oeuvre who became internationally known through his graphic paper sculptures, space installations, and interdisciplinary exhibition projects. Essays from authors from the worlds of art, philosophy and music complement the artist's own works. For this publication, two invited artists have even designed their own visual interventions as a reply to the artist's design position.

Publisher> www.degruyter.com
Angewandte>www.dieangewandte.at
Bildrecht>www.bildrecht.at
---
>mw 12.11.2016 // the NEW PUBLICATION > just arrived
Michael Wegerer - Bouncing Borders (Monography)
Book presentation dates will be announced soon...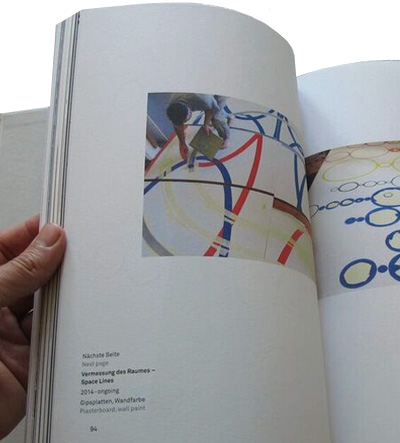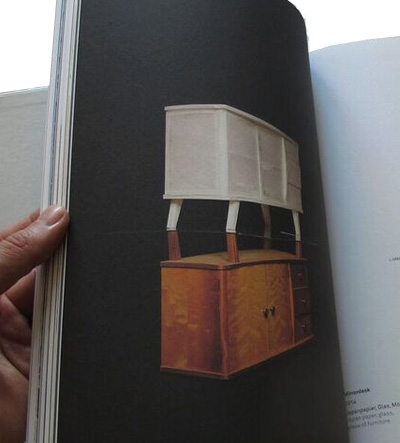 ---
> mw 20.10.2016 // more studio views > work in progress for upcoming shows ..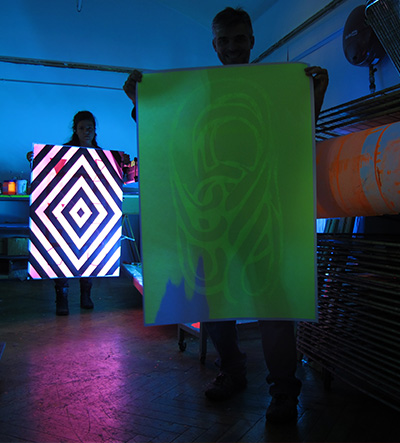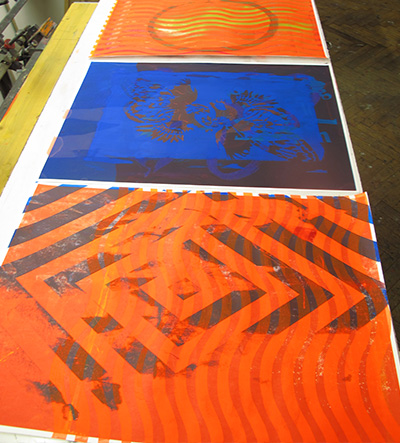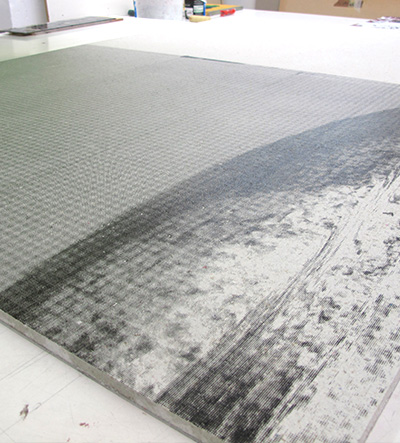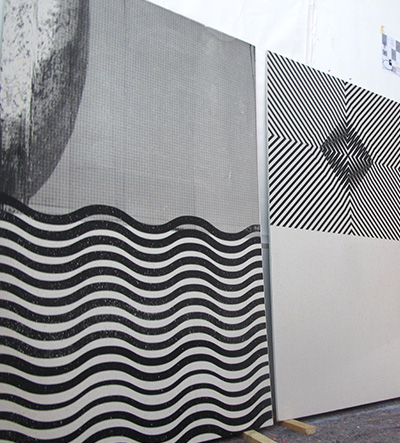 foto (c) Michael Wegerer and Renata Darabant

---
> mw 04.10.2016 // back in the studio > work in progress
screen-print object, tracing paper, fragment...
---
> mw 19.09.2016 // Vinyl and Book Release
PIANO SUBLIMATION - object sound graphic - THE VINYL IS OUT NOW
Handprinted screen print cover, animated visual sound
the complete edition includes: vinyl, book and poster

Vinyl and Publication available at > godrec.com/god38.html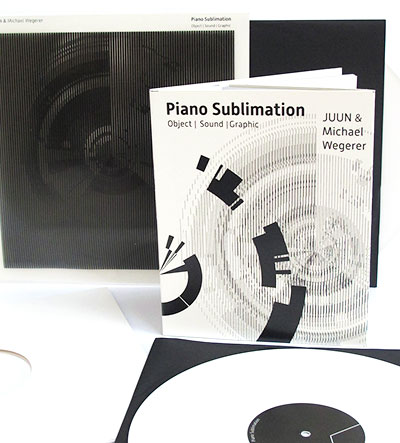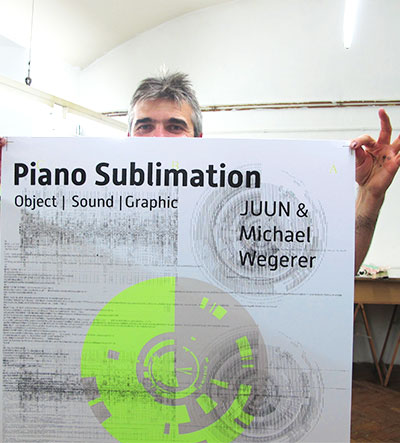 links:
Vinyl and Publication listen and see > youtube
Radio Interview on Piano Sublimation and more (DE) >https://cba.fro.at/332336
---
> mw 13.9.2016 // PIANO SUBLIAMTION
Premiere Piano Sublimation performance by JUUN, stage setting designed by Michael Wegerer at Burcknerhaus Linz concert hall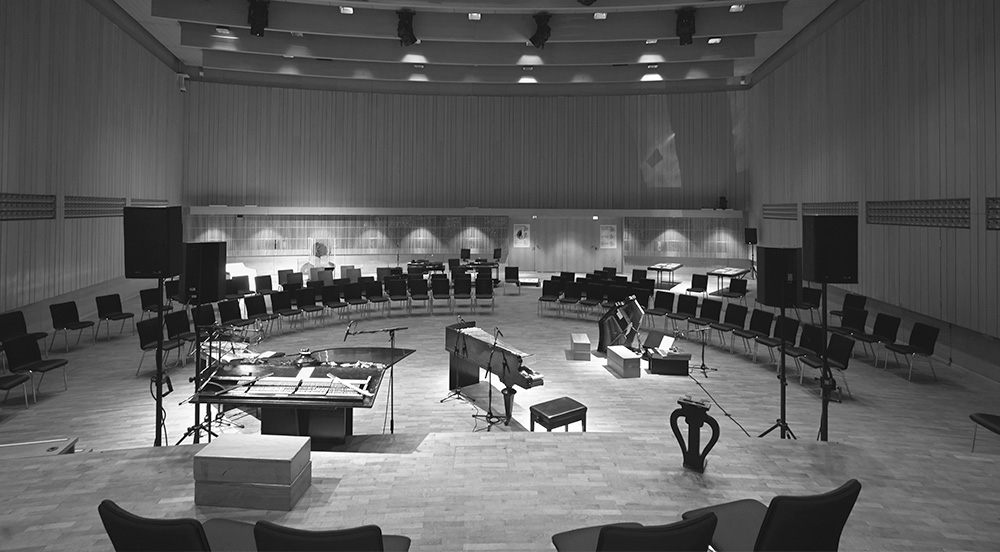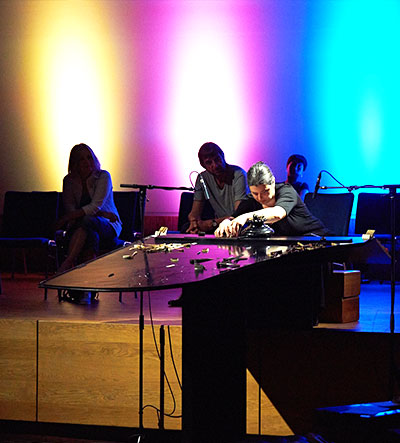 Installation with objects and glass, fotos (c) Jeff Wolf Leeb
LP Vinyl and book presentation after the concert
fotos (c) Reinhard Winkler
see more images here
> reinhardwinkler.at/bruha_pianosublimation/
>link brucknerhaus.at
1. perfomance date: 13.09.2016, 19:30h >info
2. perfomance date: 21.09.2016, 18:00h >info
---
>mw 6.9.2016 // PIANO SUBLIMATION / Burcknerhaus Linz / setting up / in progress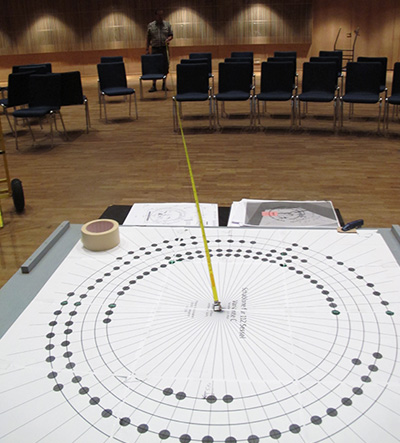 setting up for the concert: sound installation - light projection - performance on the cut piano,
next week at Brucknerhaus Linz
> fb https://www.facebook.com/events/
> event Brucknerhaus
---
>mw 26.07.2016 // AKTE A-Z
setting up the installation for tomorrow s opening at periscope:
screen print on wall, video and a glass newsprint:.. ready..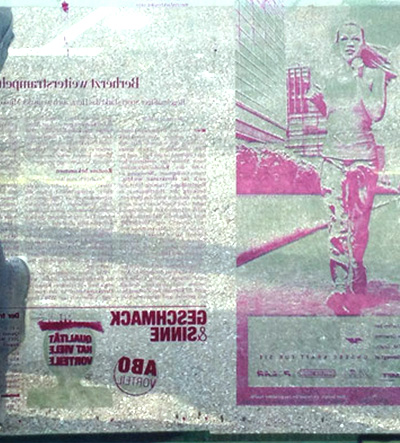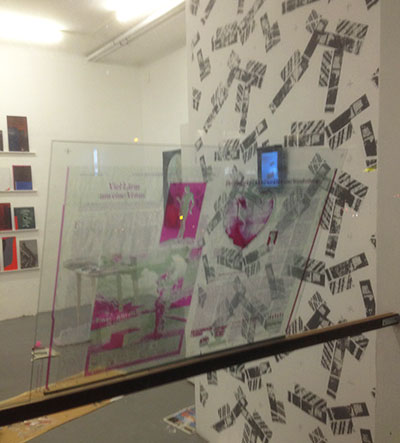 periscope will present AKTE A-Z
(28.7.–27. 8. 2016)
>periscope.at
>fb https://www.facebook.com/events/145567785873643/
---
>mw 04.06.2016 // Vermessung des Raumes 2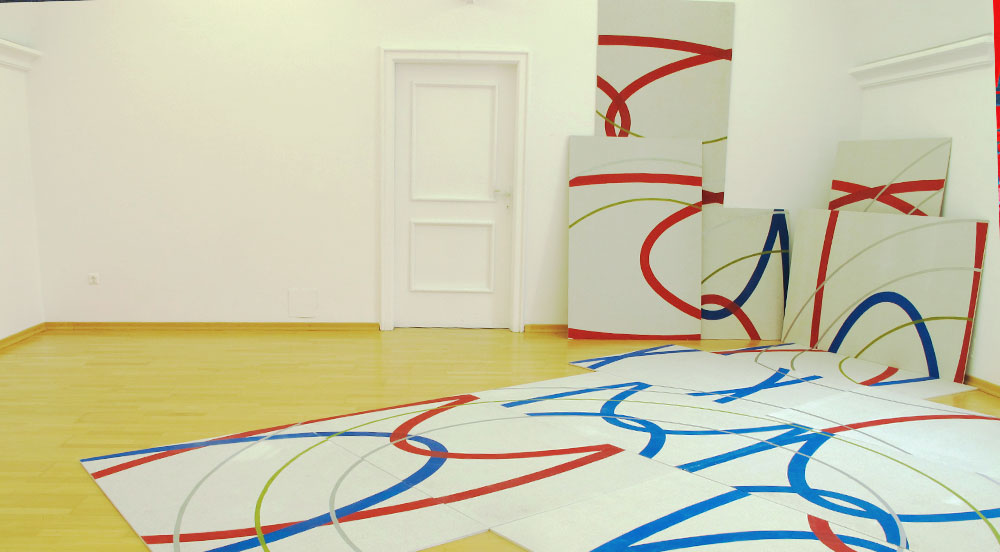 exhibition view, Painting on Plaster Board, 2016
// In den Raum (group show) 04.06.-21.08.2016
NÖ Dokumentationszentrum für Moderne Kunst
Prandtauerstraße 2
3100 St. Pölten, AT
---
>mw 01.06.2016 // Vermessung des Raumes 2
work in progress >/ from the series measurements of gallery spaces...
the work will be exhibited at DOK NOE, St:Pölten AT
In den Raum (03.06. - 21.08.2016)
> noedok.at
---
>mw 11.04.2016 // Maze&Monsters exhibition
the show opened at Künstlerhaus Passagegalerie Vienna
(06.04. - 11.04.2016)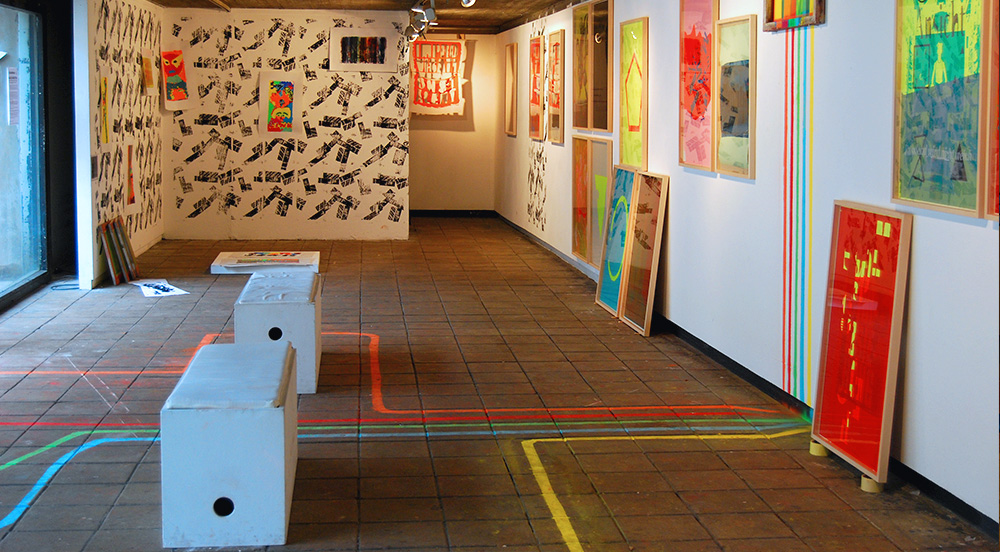 Maze & Monsters, exhibition view, Künstlerhaus, 2016
>Sterntaler: www.wirbauenaufkunst.at
>Künstlerhaus: k-haus.at
>Publication: maze&monsters
---
>mw 30.03.2016 Maze & Monsters work in progress
views in the studio of the artist in residency at Rudolf Steiner School Vienna.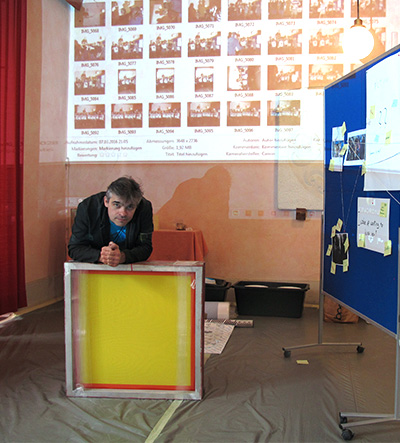 11 students got involved with graphic concepts about media-images and formulated exiting new ideas and translated collages into screen prints. The exhibition opens in April ..
(c) project-idea by Michael Wegerer, Künstlerhaus Vienna, Culture Connected and KulturKontakt Austria in Cooperation with Rudolf Steiner School Mauer Vienna
---
>mw 27.11.2015 / Screen Print / Studio Opening: NEW NEW for commissions
NEW NEW Quint Studio - Screen Print Commissions -
for further information please contact us >>>>quintstudio.at
Michael Wegerer / Quint Screen Print Studio
Schottenfeldgasse 84/1
1070 Vienna, Austria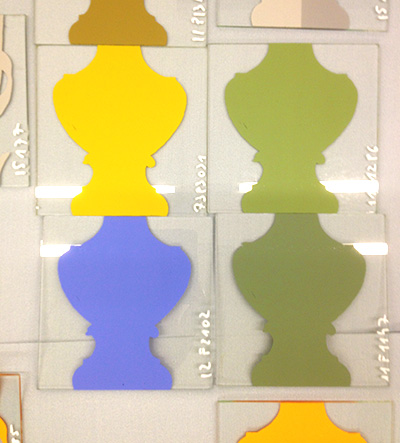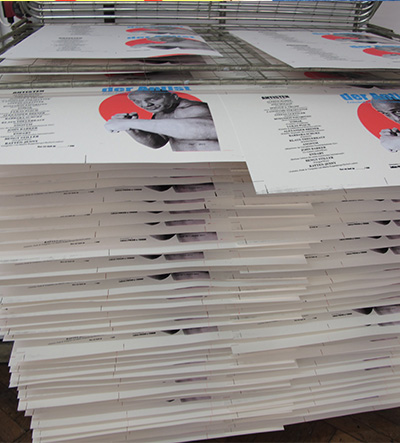 Screen print on glass for architecture and edition printing for artists and galleries and much more screen printing ...
---
>mw 12.11.2015 / LOOP (opening) Opening evening and exhibition setup.
Works displayed at the gallery by Scott Betz, Barbara Höller, Richard Philipps and Michael Wegerer.
press release:
>pdf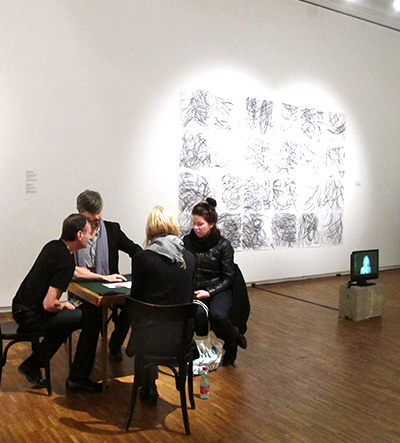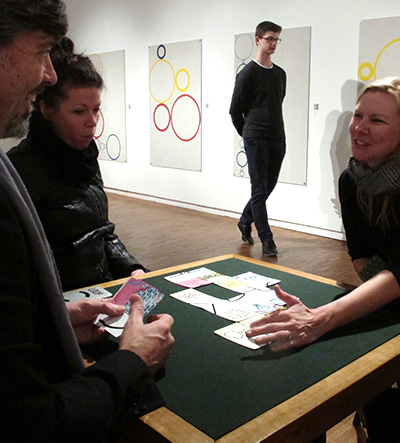 The collaborative designed card game LOOP was intensively played by the audience.


Sound text paintings by Michael Wegerer: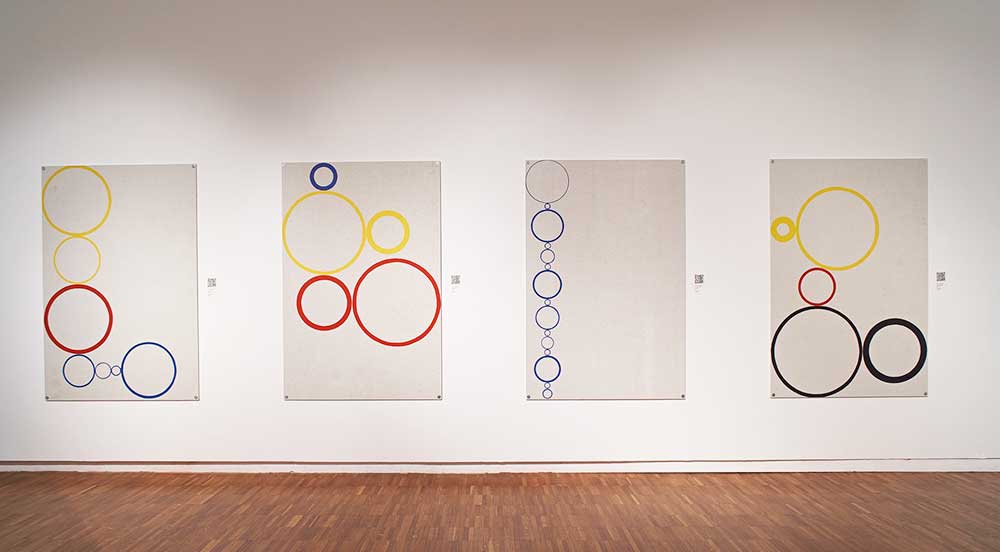 > listen the spoken text on soundcloud https://soundcloud.com/mike-q-wegerer/all-16-stories-spoken-sounds/s-XQD7i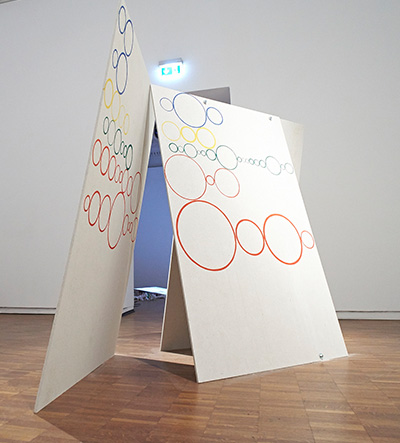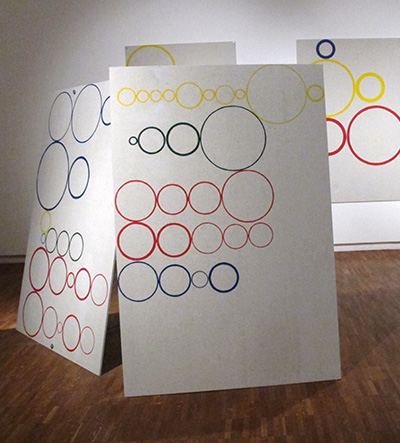 Visualisation of text, calligraphy ink on plaserborad & QR Code


---
>mw 29.9.2015 / LOOP (making)
Currently i am working and designing images for the card game "LOOP - burning Issues"
which will be presented at the exhibition "LOOP - concepts of exchange" in November.
LOOP is a collabortive project with 4 artists:
Barbara Höller, Scott Betz, Richard Phillips and Michael Wegerer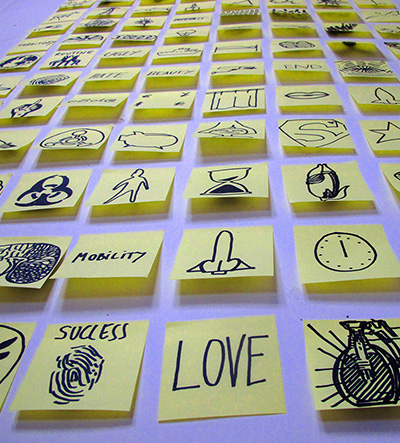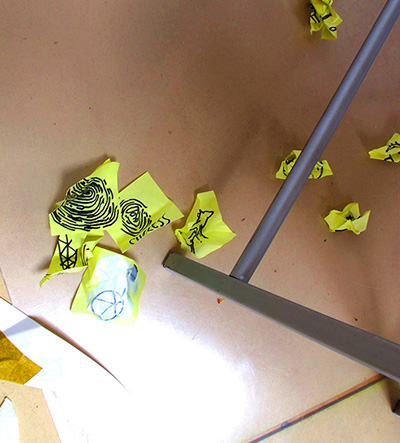 The CARD GAME will be the central collaborative work displayed at LOOP > and will be played Live via Skype on 4 computers connecting Vienna AUT and North Carolina USA on the 17.nov 6 pm (VIENNA ART WEEK EVENT)
links:
>k-haus.at/Loop
>viennaartweek.at
---
>mw 26.5.2015 / Installation views Public Art Exhibition DIS|ORDER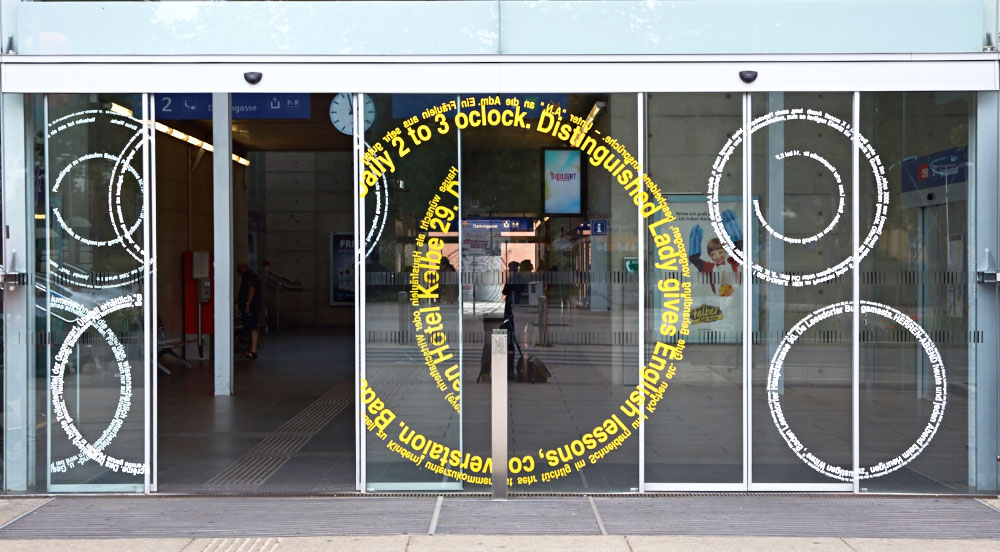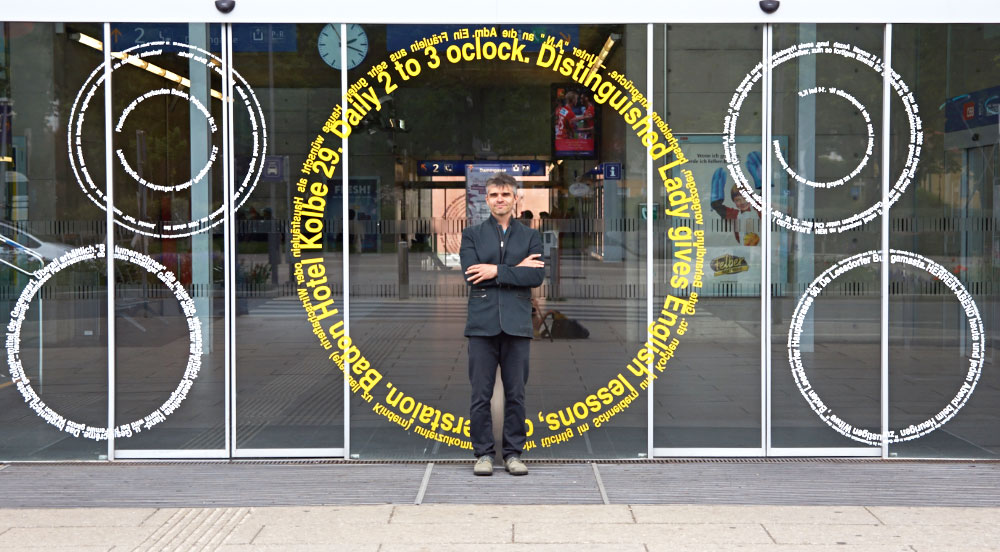 Transversal Spheres, 2015

Geometric shapes and typefaces of historical text and image sources originate from advertising copies of the local newspaper BADENER ZEITUNG 1910-15 - a time when Arthur Schnitzler visited regularly BADEN the city of culture and health resort south of Vienna.
Through its attachment onto the automatic sliding glass doors at the main station, the text generates various combinations and overlays, when the passengers opens and closes the doors and its movements disrupts the textual order of the initial text.
---
>mw12.5.2015 / Setup Public Art Exhibition DIS|ORDER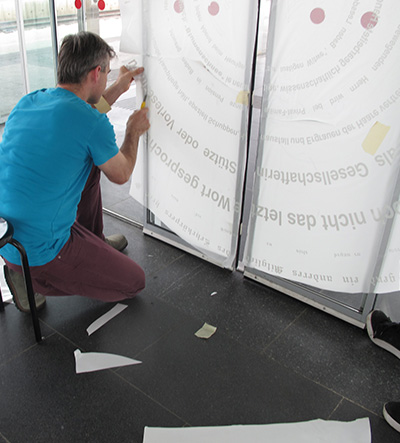 Thanks for the support of KV Baden http://www.kunstvereinbaden.at/
and Agentur Narosy KG http://www.narosy.at/
Official link: >www.arthurschnitzlerpark.at
---
>mw 09.02.2015 / Gallery Rostrum Malmö, exhibition views

The works shown at Rostrum are dealing with the grammar of objects and images in relation to a particular place: Malmö. The images are originating from Michael Wegerer's virtual travels on the Internet, as well as from his stay in Sweden in June 2014. He transmits elements and fragments of reality by one or more process steps and translates it to a new and subjective context.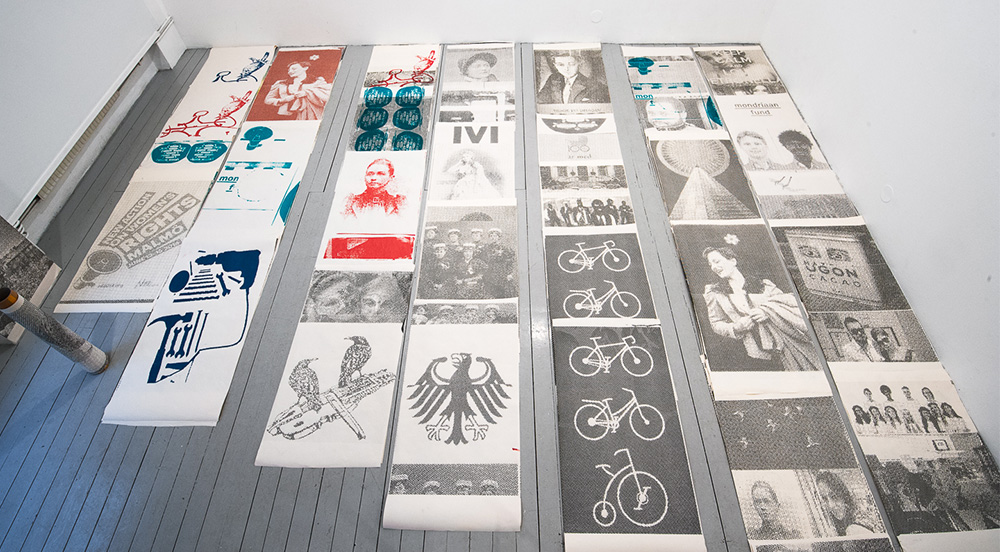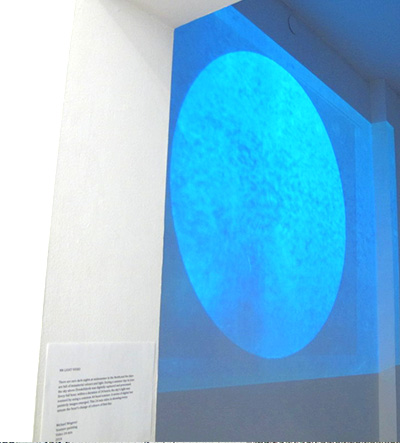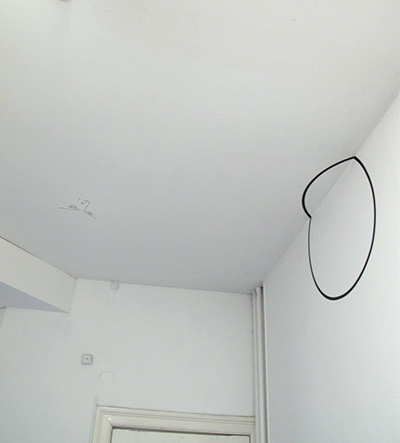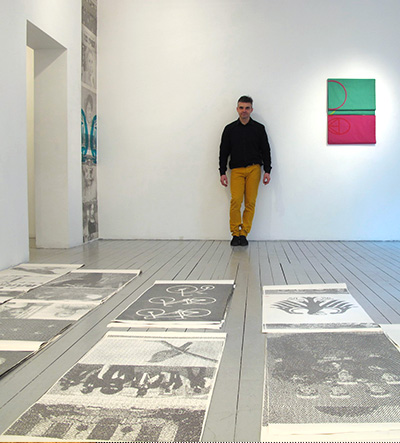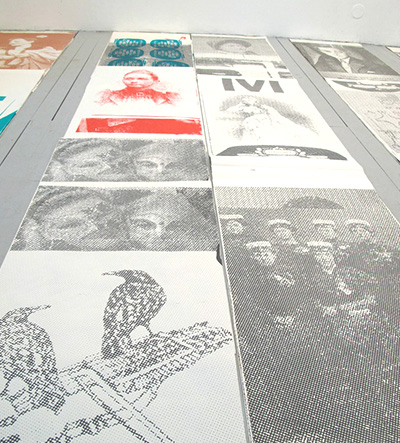 works on display:
Video projection of the scanned midsummer sky in sweden, cut plot foils of media images and drawings, screen-prints on wall paper and floor presenation, textiles and a sound installation.

link: >rostrum.nu/
opening: >http://at--rostrum.blogspot.se/
fotos (c) Cecilia Sering
---
>mw31.01.2015 / Rostrum exhibition work in progess
Finishing touches for the next show in Malmö...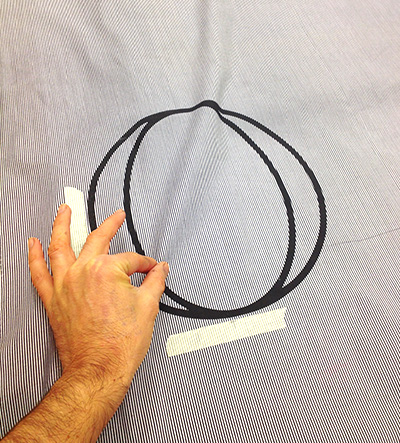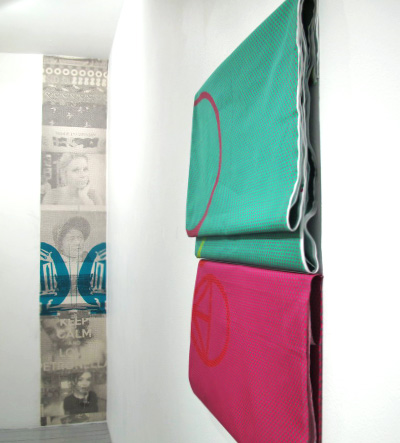 Web Images, Collages, Screen-print on Textile, Sound and Video Installation
---
>mw10.01.2015 / Next show>
Galleri Rostrum
Malmö Sweden
Ivitation Card>>invite - flyer2 with studio view>>(pdf)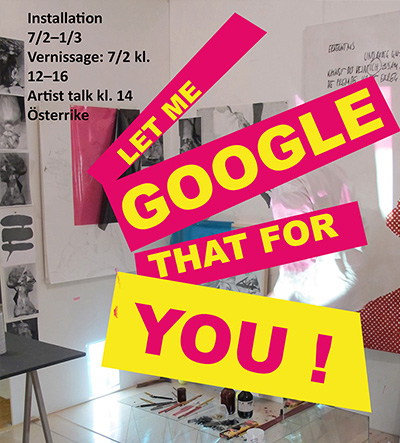 link:
>rostrum.nu/
---
>mw 27.11.2014 / F!GURES (solo show)

exhibition views and opening at KIS Gallery Vienna 2014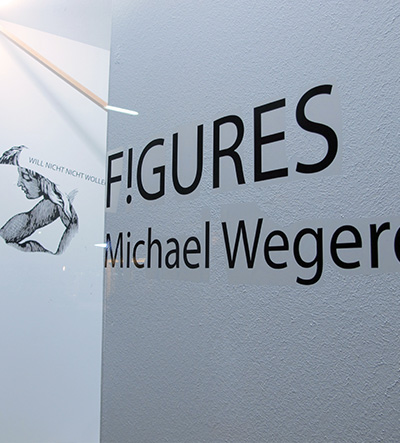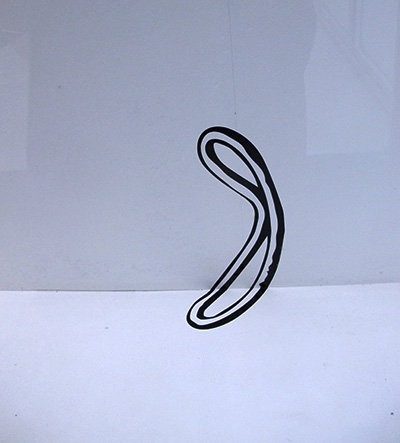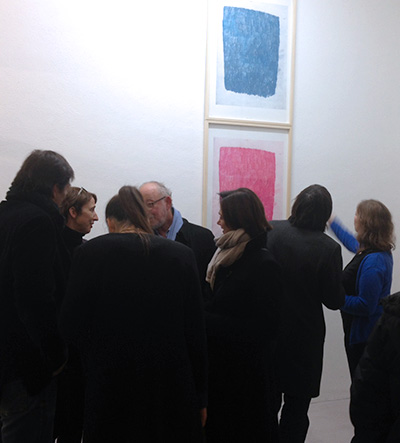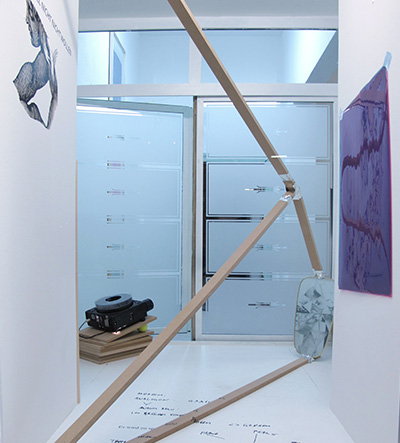 Slide-projection, CNC Cut Foil, Screeen-prints, Drawing,
Objects and Sitespecific Intervention....

>Interview about the exhibition (german text):
Dunja Ganser-Michael Wegerer
links:
opening views on>plus.google.com/+DagTravner
(thanks (c) Dag Travner)

---
>mw 18.11.2014 / next show > F!GURES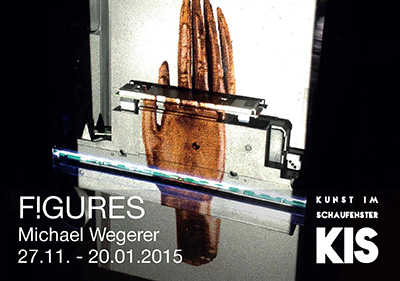 link:
>blog/kunstimschaufenster.at
>intervall/website
---
>mw16.10.2014 / Tell me what you Want (duo show with Darina Peeva)

exhibition views at the Künstlerhaus Vienna 2014



Space Line, painting on 21 palster-boards
(the measurements of 12 rotationally symmetric ellipsoids are based on the spatial dimensions of the gallery space)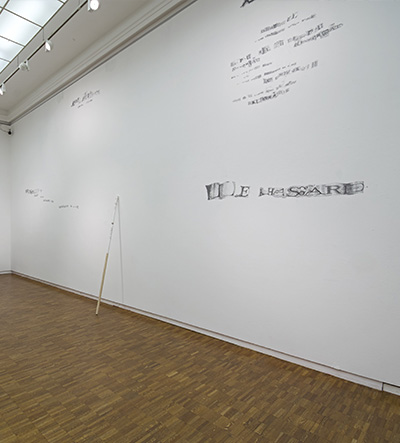 ,Mallarmé Rewritten -- Un Coup de Dés
(wooden-stick-collage, scanned and drawn on the wall)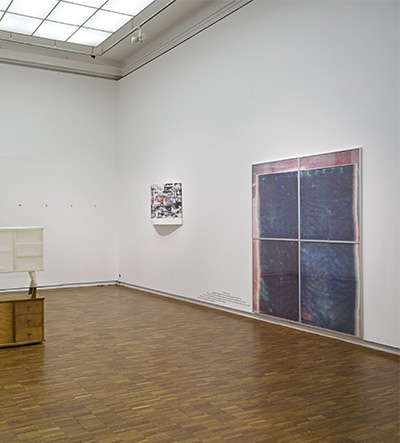 Installation view: Paperobject, Prints, Objects, Screenprints...
>link:
k-haus/ausstellung
>press:
http://artnovini.com/art-globe/die-welt/1580-tell-me-what-you-want-darina-peeva-und-michael-wegerer-im-kuenstlerhaus.html
---
>mw 09.10.2014 / New Publication out Now in London
Printmaking Today / London UK
Volume 23 2014 Issue 3 AUTUMN 2014 Now out
Profiles of Hilary Paynter PPRE, Lucy Skaer and Diane Victor,
and a collaborative project by Michael Wegerer and sound artist JUUN.
Printmaking Today is on sale at the following outlets:
Tate Modern, Tate Britain, Tate St Ives, The National Gallery,
Whitworth Gallery, Arnolfini Books, City Art Gallery Aberdeen,
and many other shops in London...
---
>mw 01.10..2014 / Zeit(lose) Zeichen / Time(less) Signs
Otto Neurath and Reflections in Austrian Contemporary Art
>Exhibition view at the ACF London 2014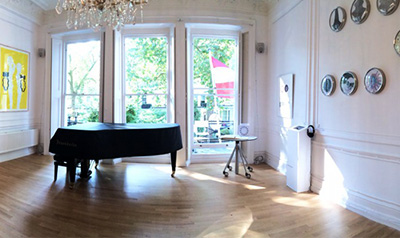 >link: acfl digital salon
>Exhibition view at the Künstlerhaus Vienna 2012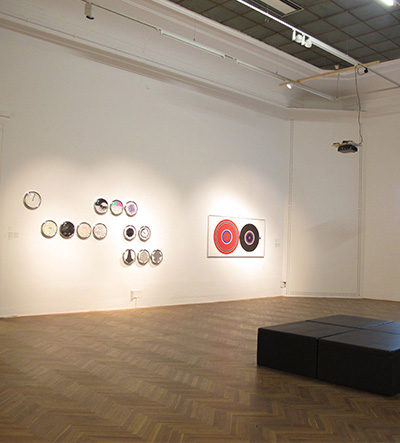 Michael Wegerer (left) - Data Visualization
(Drawings in Ikea-clocks)
H.J.Painitz (right) - National Assembly Election, Painting 1971
Links:
> http://www.zeitlose-zeichen.at
> http://www.facebook.com/ZeitloseZeichen
---
>mw 20.9.2014 / work in progress

for the upcoming show "Tell me what you Want"

l: Painting on plaster boards - Scace Lines
r: Sculpture made of china paper, glass, second hand furniture - Mirror Desk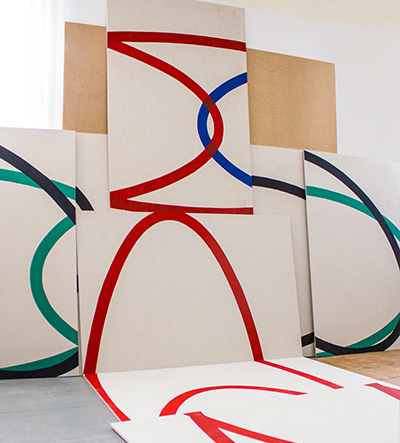 ---
>mw 15.07.2014 / Hocker, Stuhl, Sessel in der Kunst
/ Galerie im Traklhaus, Salzburg AT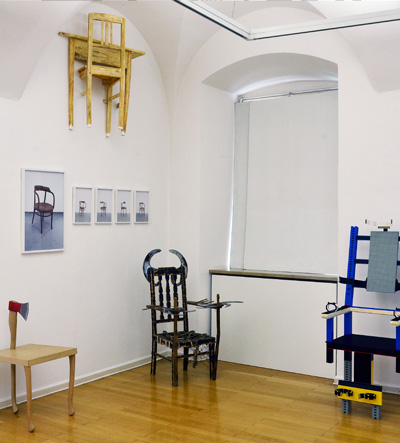 l: Säulenraum: Mostböck, Chytilek, Wegerer, Frieberger, Erjautz
fotos(c) galerie traklhaus

r: Michael Wegerer- Little is left to tell, (Woodcut Paper Sculpture)
foto (c) faksimile vienna
> link: traklhaus/events
Katalog (192 Seiten)

---
> mw 30.06.2014 / SOLO Exhibition views: 'ljus och språk', Locomotiv Gallery SWEDEN
Artist in Residence / Kollektiva Konstnärs Verkstad Örnsköldsviks (1.6.-30.6.2014)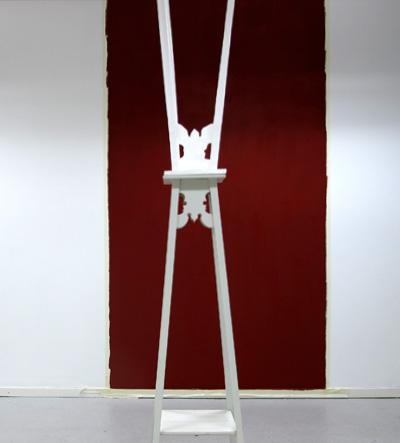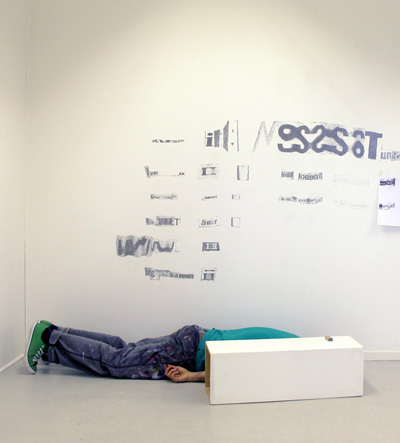 Links / Press:
http://webben7.se/
http://www.volym.info/
>gallery views on fb
---
> mw 28.05.2014 / Artist in Residence Örnsköldsviks
Flight to Stockholm

AIR - ÖKKV Sweden (1.6 - 30.6.2014)
is supported by AIR Krems NOE & OKKV Sweden


---
>mw 01.03.2014 / CUSTERWOLKE
Ausstellung und Kooperation mit Barbara Höller
OOE Kunstverein Linz 2014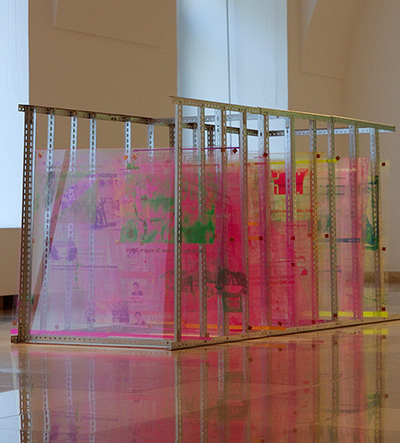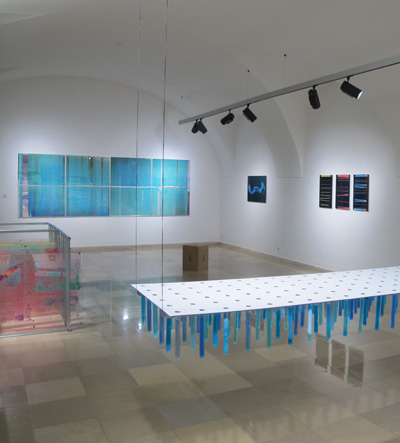 screen print on glass newsprints
>Install View: Clusterwolke
---
>mw 29.01.2014 / PIANO SUBLIMATION #2
Object - Sound - Graphic / Cooperations-Project in 3 Parts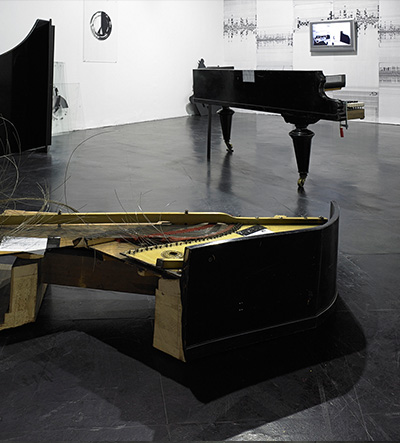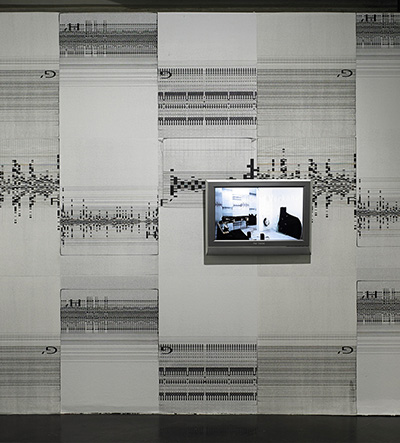 performance and sound installation, video



visual sound: Screen-print onto wall paper and glass
Venues: Künstlerhaus Vienna, 2013, Kunsthaus Mürz, Porgy & Bess, Vienna, FAb Gallery, Calgary Canada, 2014
iviews: Piano Sublimation 1-2
Trailer> http://vimeo.com/86505185
(c) PIANO SUBLIMATION - Object / Sound / Graphics i
s a collaboration-project in 3 parts between the
Austrian composer and musician JUUN
(> juun.cc ) and the visual artist Michael Wegerer.
---
---
Archive 2006-2014
---
2014
4muerz2beat14 (g)
Clusterwolke (c/g)
2012
Post Occupancy (g)
Gradual Amalgamation (s)
Sarajevo Transit (g/c)
2010 /11
You make Me feel mighty Real (s)
Consequences (g/c)
Desert Bus Stop (p/i)
2009
Translab (s)
Planta Baja (s)
Open Source (s)
2008
Reset (s)
Multiple Spaces - Qubik (p/c)
Displayced (i)
2006 /07
Princess Paradise (i/d)
Obviously (o)
Dialog (p/ii)
Little is left to tell (o)
..